At her sixth showing at the Chelsea Flower Show in London Nicky Gurret won her sixth medal, this year entering  'The Cutting Edge' Floral Arrangement class, where her floral art called 'Edgy Bermuda' received a bronze medal.
Ms Gurret said, "I submitted my application last year in August 2016 and it was accepted. The design was very modern with mostly Bermuda home grown plants. I used cut Chinese fan palm leaves, screw pines and golden cane palm, all of which I brought from my garden in Bermuda."
The remaining plant material she bought at the New Covent Garden Flower Market in London, including red anthuriums, orange protea and red hypericum berries.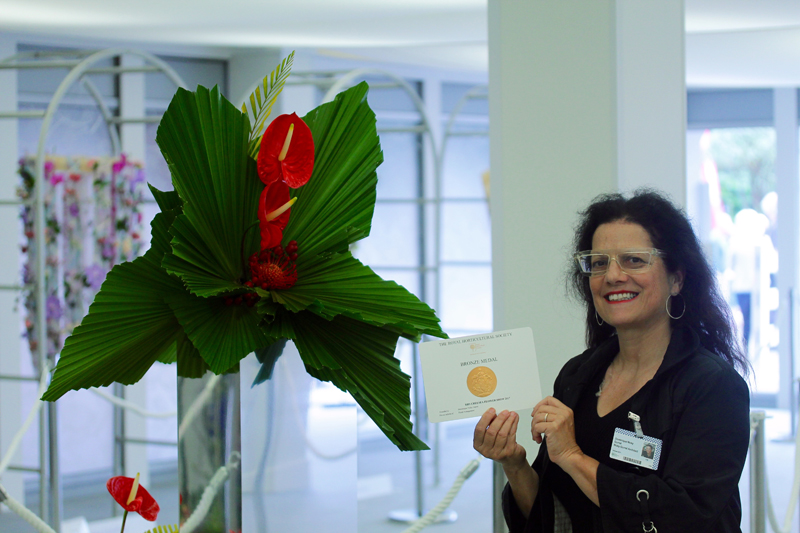 The Chinese Fan Palm leaves, screw pines and heavenly bamboo she bought from Bermuda had to be inspected and passed by the Bermuda Plant Laboratory in order to get a Phytosanitary Certificate for travelling with plants.
"Thus plants had to be picked and washed the day of her departure before transporting to London and involved a lot of extra luggage and tons of cleaning.. The plants had to be cleaned and inspected twice as the Bermuda Plant Laboratory failed the plants the first time as they still had a few mites on them.
Ms. Gurret had wanted to bring everything for her exhibit from Bermuda, but a large four foot circular mirror proved to be too large to take on the plane so she ordered one from a glass company in London. She had wanted to construct mirror triangular shaped vases out of mirror from a company in Bermuda or London but that also proved too difficult.
In order to create the appearance of mirror vases she bought 4" PVC from Gorhams and polished aluminium cut sheets from Signworxs where she placed her arrangements on the sturdy PVC 4" tubes and surrounded them with 4mm thick polished aluminium triangular vases.
Her son Christian Chin-Gurret spent several hours putting together the polished aluminium before and at the show, after he travelled down from Bangor University in Wales for the weekend to assist his mother with installation.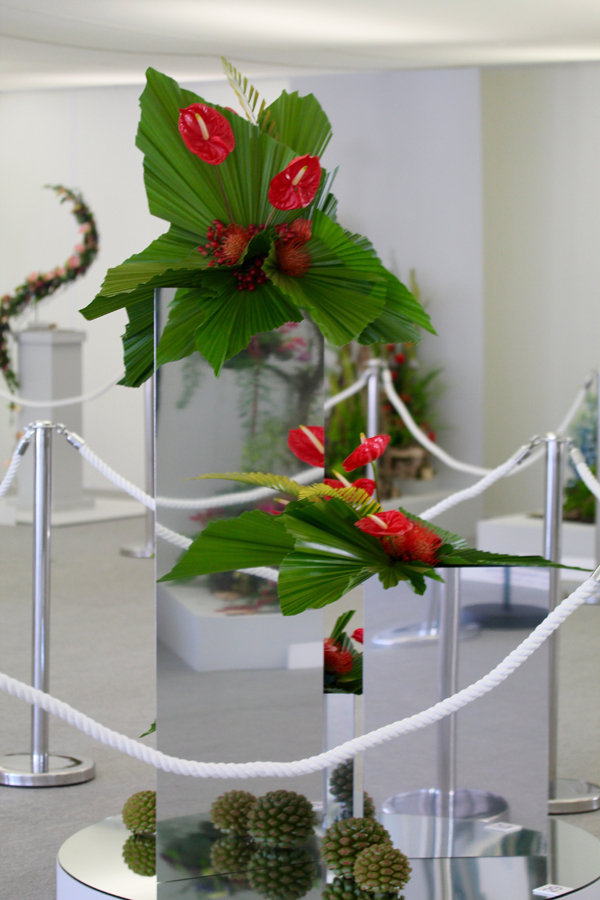 Ms Gurret has exhibited 6 times at the Chelsea Flower show in the past designed two gardens for the Chelsea Flower Show exhibits in the Grand Marquis, 'The Bermuda Honey Moon Garden' where she received a silver medal and The Bermuda Double Fantasy Garden where she received a bronze and has won several silver medals previously in The Flower Arranging Studio.
Her next exhibit will be in the World Flower Show which takes place in Barbados later this year. Her sponsor was Gurret and Associates, who provide architectural, landscape and project management services."
Read More About
Category: All, Entertainment