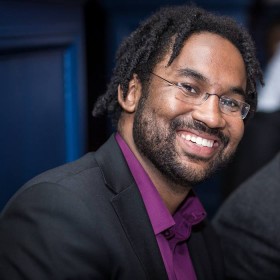 ThinkFest 2017 continues at the Bermuda College's North Hall Lecture Theatre on Sunday October 22 with The Mathematics of Invading Fish, Hostile Bacteria and an Election – a talk by Kevin Minors.
An overview of his recently completed PhD thesis at the University of Bath, Minors' talk will reveal key breakthroughs on aspects of fish biology, bacterial behavior and elections – and explain the research process and underlying mathematical models.
He has already presented the results of his research at conferences globally, but his ThinkFest appearance will be the first in Bermuda.
Minors returns to the University of Bath immediately after the presentation to defend his thesis before being formally awarded a doctorate in mathematics.
Minors said: "This presentation will be a summary of the research I have been doing for my PhD which consists of three projects. The first project focuses on how a population of fish invade along a river and utilizes mathematical theory to discover whether fish swim faster when they want to reproduce.
"The second project focuses on bacteria and how it invades past an obstacle.
Finally, the project on voters in an election will look at one particular voting model and explore what is the best way to persuade people to your preferences."
A Warwick Academy alumni, Minors completed his undergraduate and Masters Degrees at the University of Oxford before heading to Bath for his doctorate.
The newest event on the Bermuda calendar, ThinkFest is an opportunity for the island to celebrate and acknowledge Bermudian academics and independent thinkers, a platform for networking with potential employers, funders, other academics and researchers and a forum for discussing the latest research in a wide variety of fields.
Each of the ThinkFest presenters dive deeply into a single topic for an extended period, followed by a chat with a host and audience Q and A.
For ThinkFest 2017, more than a dozen academics have been invited to present on topics such as the latest developments in cancer research, linguistics, media and race, ethnobotany and crime talk.
Tickets for ThinkFest 2017 events can be purchased online at think.bm or at the door. Early bird, youth and group discount tickets are available.
Read More About
Category: All