BELCO yesterday [Nov 29] hosted a Safety and Environmental Emergency Response Table Top exercise as part of its long-term adoption of the Incident Command System [ICS].
"ICS is a standardised approach to command, control and coordination of emergency response that is widely used in Canada, the USA and the United Kingdom. It has also been recommended by the United Nations as an international standard that should be adopted," BELCO said.
"ICS provides a common hierarchy within which responders from multiple agencies can be effective in organising resources in response to any incident and provides processes to manage an emergency response through its successive stages [concept of operations]. ICS can be applied to a wide variety of emergency [and non-emergency] incidents including environmental, injury/illness, hurricane, IT Cyber Security, etc.
BELCO Employees Sheldon Jones and Zeldon Trott, along with Bermuda's National Disaster Coordinator, Steve Cosham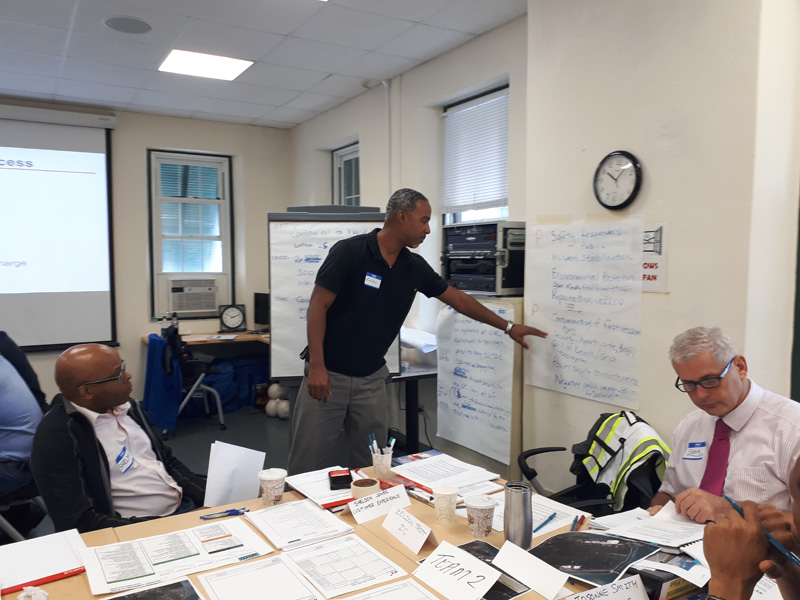 "ICS is rapidly becoming the predominant emergency management system in organisations and governments around the World," states BELCO Chief Operating Officer, Denton Williams.
"While BELCO is well-known publicly for its systematic and efficient response to large storms and hurricanes, there are many other emergency scenarios that we must be prepared to respond to in an efficient and effective way.
"ICS provides a standardised approach for incidents of any type or size, and ensures the safety of responders, effective use of resources and the avoidance of duplicated efforts."
Mr. Williams continued, "The adoption of ICS enables us to implement a more consistent approach to all emergency response scenarios and focus on the priorities, including life safety."
BELCO's adoption of ICS as an organisational standard will be completed over the next two years, the company said, adding that over the past year, 115 BELCO and Ascendant employees have completed ICS Training in preparation for its formal adoption as a company standard.
Participants being set up for the Emergency Scenario by the Lead Facilitator, Mike Murray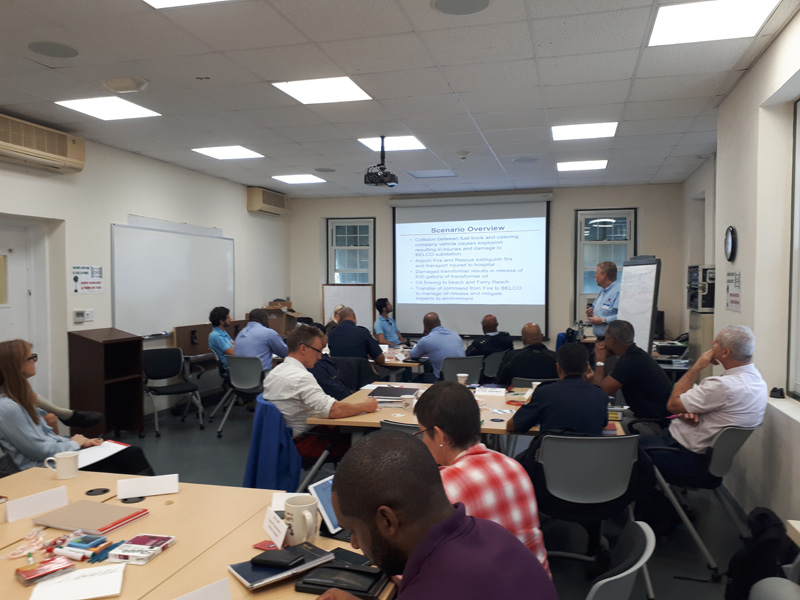 BELCO said, "Further, given the importance of having an effective and collaborative working relationship with other emergency responders, BELCO also extended training opportunities to representatives from the Department of Environment & Natural Resources, Bermuda Fire & Rescue Service, Bermuda Police Service and the Emergency Measures Organisation [EMO].
"The half-day Table Top exercise included 20 participants from BELCO, Ascendant, Bermuda Police Service, Bermuda Fire & Rescue Service, Emergency Measures Organisation [EMO], the Department of Environment and the Department of Energy and began with opening comments from the Minister of National Security, the Hon. Wayne Caines, JP, MP. The overall objective of the exercise was to increase preparedness and operational readiness of BELCO and its external agency partners to respond to an incident."
"Yesterday's Table Top exercise was an opportunity to build on the participants' knowledge, test the effectiveness of BELCO's emergency response as a company and also have staff members become more comfortable in responding efficiently and effectively regardless of incident size and/or severity," states Mr. Williams.
He continued, "During the debrief of the exercise I was extremely pleased to hear the Lead Facilitator and ICS Trainer, Mr. Mike Murray of Kildoon Intellection tell participants that the outcome of this morning's exercise was one of the strongest he had experienced in his 20 years of providing ICS training."
"In closing, I would like to congratulate all Team Members and partner agency representatives who have successfully achieved their ICS certifications and thank our external partner agencies for their participation in this and future emergency response training exercises."
Read More About