[Written by Mikaela Ian Pearman]
With around one week left of Restaurant Weeks, I decided to head to a restaurant I don't frequent often – Devil's Isle Café. I eat at Village Pantry – sister restaurant – almost every weekend, but I hadn't been to Devil's Isle in a long time. When I looked at their Restaurant Weeks menu, I knew I had to try it out.
Let me preface this review by saying everything we had was excellent. Not good, not very good – excellent. So with that said, let's get to it.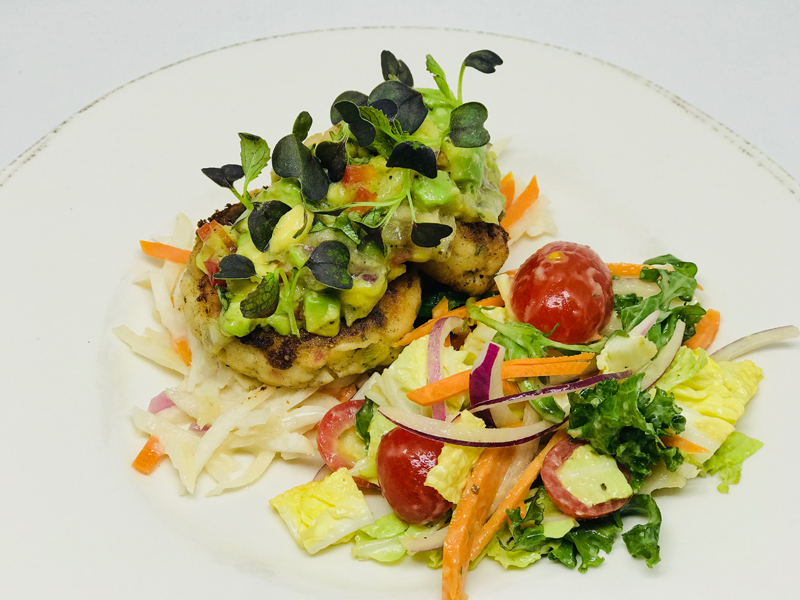 For starters, we ordered Bermuda Fish Tacos and Vegetable Empanadas. The tacos were topped with a tomatillo and cabbage slaw, tomatoes, cotija cheese, cilantro avocado, red onion and Bermuda nasturtiums.
On the side was a salad and a smoky black bean sauce. The tacos were a combination of crunchy, smoky, creamy, tangy and delicious all in one. I was sad there were only two. I could've had another!
The empanadas were another great appetizer. They were stuffed with Bermuda goat cheese, butternut squash, onion, swiss chard and kale and served with a side salad of cabbage, picked peppers and chimichurri sauce.
The empanadas had had a crunch on the outside and the filling was super savory and yummy. The side salad added some pop to the dish with the pickling of the peppers. All in all, a wonderful starter.
For mains, we ordered Bermuda Crispy Coconut Baked Fish with coconut, mango and cilantro sauce, rice and beans and roasted vegetables. We also ordered Bermuda Lobster and Shrimp Ravioli which was made of squid ink pasta and had shiitake mushrooms, red cabbage, roasted tomato and butternut squash in a tomato rosemary sauce.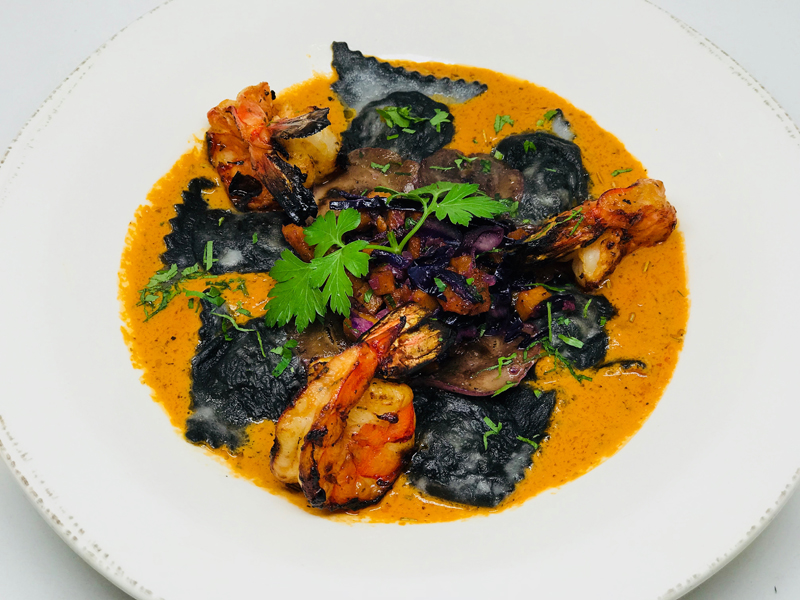 The ravioli was the star of the main course. I must start by saying this is not a dish I would ever order. Squid ink pasta freaks me out and I'm not huge into shrimp. But, we ordered it and I'm so glad we did. The pasta was obviously homemade and the filling was light and delicious.
The cream sauce paired with the mushrooms gave a smokiness and then the butternut squash added a creamy element to the whole thing. This dish was easily the best I've had for RW this year.
Not to be outdone, the fish was also delicious in a different way. It was perfectly cooked and light. The sauce was rich and velvety with the mango and cilantro adding some tang to the dish. And the rice and beans were a fantastic accompaniment. I would absolutely order this dish again.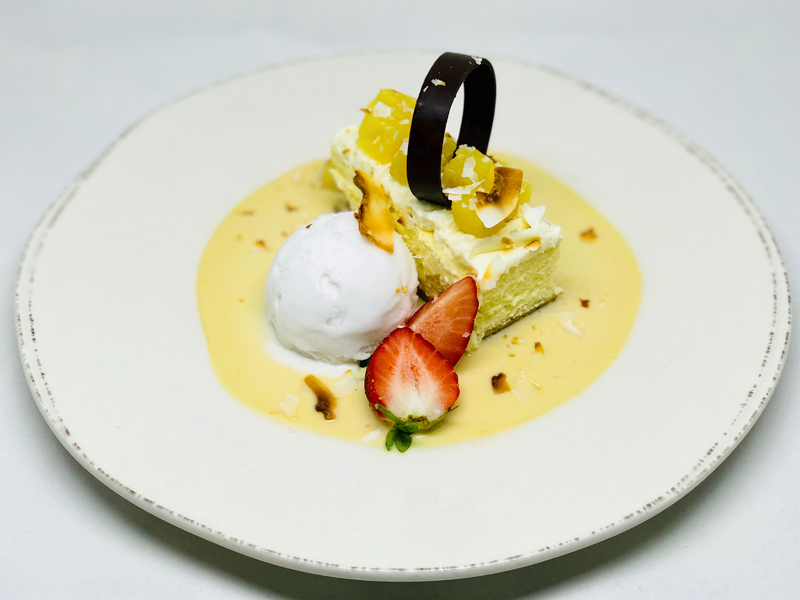 By now, we were both full but we had to have dessert. Our server surprised us with all three desserts on offer – Banana Fritters with peanut Butter Mousse, Dark Chocolate Rum Mousse with Macerated Strawberries and Pina Colada Cheesecake.
Every single dessert was amazing. Being a chocoholic, I loved the decadence of the mouse, which was also very light and airy. The cheesecake had the best flavor and the coconut sorbet served on the side was heaven.
Finally, the fritters were everything you want fried dough to be. The peanut butter mousse on the side added the right amount of creaminess to take the fritters over the top.
So what's the takeaway? I urge you to call Devil's Isle and make a reservation for Restaurant Weeks before you regret it. If you are looking for typical food that can be found anywhere, it's not the place for you. But, if you are looking for a dining experience with interesting food not found on many menus, head to Devil's Isle. Tell them I sent you.

This year's Restaurant Weeks is running from January 11 to February 4, with the largest number of participating restaurants ever, at 51. The three levels of pricing for this year's dinners are $32, $42 and $52, and lunch is also being offered by 14 restaurants for $22. You can view all our coverage of Restaurant Weeks here, the full list of lunch menus here, the list of dinner menus here, and all coverage of cuisine here.

Read More About
Category: All, Entertainment, News