[Updated] The Premier "must give details of how many jobs fintech firms that have been incorporated in Bermuda will create" Opposition Leader and Shadow Finance Minister Jeanne Atherden said today.
"A report in the New York Times revealed that iCash, a new cryptocurrency, would "have an office and a head of operations in Bermuda, which the Island requires of all companies" but would continue to be based in Florida.
"Does this mean that just one person and one small office will be utilized by this firm? Is this going to be the same for all the fintech companies that have incorporated here? The Premier said in response to my Parliamentary questions that 21 fintech companies have incorporated here, does that mean just 21 jobs?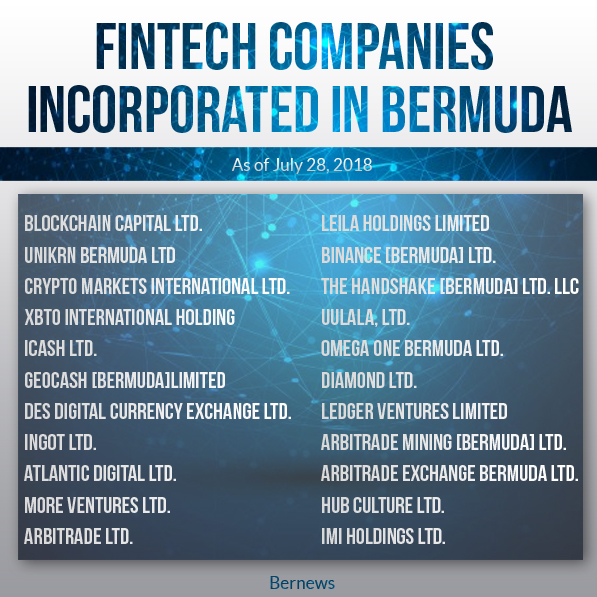 "When I specifically asked in the House about how many work permits the companies would require and how many jobs would be created — in total and for Bermudians – I got no answer and was interrupted by the Speaker who told me the questions were hypothetical," Ms Atherden continued.
"Yet in a statement last May the Premier said that 'this Government promised to create an environment in which Bermudian businesses can thrive, opportunities for Bermudians can be created and in which capable, qualified Bermudians can earn opportunities to work, train and succeed at every level'.
"In the same statement he said Binance would create 40 jobs in Bermuda and that Medici Ventures, LLC would create at least 30 jobs in Bermuda over three years. We were told that Arbitrade would also create jobs.
"The Home Affairs Minister Walton Brown told the House in May that "the Fintech Business Work Permit Policy, which almost mirrors Immigration's New Business Work Permit policy, allows a fintech company that is new to Bermuda to receive immediate approval of five work permits within the first six months of obtaining the first Fintech Business Work Permit'. Have any work permits been given or even applied for?
"The OBA supports policies that create jobs for Bermudians and brings investment into our economy, but it is our duty as an Opposition party to raise these questions on behalf of all Bermudians. We are making key investments with their tax dollars on the line, all while trying to protect our existing business and jobs because of external threats. What is this government's clear priority?
"We understand that legislation has been passed and more is forthcoming which will encourage fintech firms, but nonetheless there are still too many questions hanging over the Premier's flagship policy.
"I want to add that I was very disturbed that the Speaker of the House answered for the Premier. It is not for the Speaker to answer Parliamentary questions, it is for the Premier or relevant Minister."
Update 7.31pm: Premier and Minister of Finance David Burt said, "The facts are that government revenues are up and the total number of people contributing to Social Insurance as at June 2018 was 33,909. This is 322 more than were contributing in June 2017. Out of the increase of new 322 jobs, 83% of those jobs were held by Bermudians, and only 17% of those jobs were held by non-Bermudians.
"As FinTech companies incorporate in Bermuda, we will see opportunities for Bermudians to participate, develop and train in this new industry. No new industry grows overnight but we are witnessing the formation of companies, the hiring of Bermudians, the creation of jobs in Bermuda and a concurrent increase in government revenues. The legislation this Government has passed is the foundation that is creating the environment for job creation and ensuring that more and more Bermudians enjoy the success of that growth.
"We expect that dated, vested interests will continue to do all they can to create doubt; but we continue to work hard every day fulfilling our promise to the people of Bermuda to diversify this economy and make sure that the success of these new industries is shared by them and not just a privileged few."

Read More About
Category: All, Business, News, Politics, technology