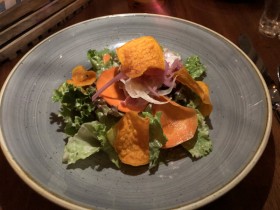 [Written by Mikaela Ian Pearman]
Since I eat out so much, it's not often that I have an incredible, memorable meal that blows me away. But, sometimes it happens, and I tend to remember every single thing about the food, the service, the drinks, etc.
The meal I had at Marcus' [menu PDF] over the weekend for Restaurant Weeks is going to be a meal that I remember for a long time.
My husband and I dined there on Saturday night and it was a home run from start to finish. When we arrived, we were quickly seated and met by one of the chefs, Chris who asked about our dietary restrictions and the like. We agreed that to enjoy the most out of the meal, head chef Danai would just send us food instead of us ordering from the RW menu.
For the first course, we enjoyed Sweet Potato and Miso soup with raisin croutons along with Luke's Pond Green's with red onion vinaigrette and pickled vegetables. The salad was great – fresh, tangy and crunchy but the soup was the star of this round. Creamy, decadent and an amazing depth of flavour thanks to the miso. I wanted to eat the entire bowl instead of sharing it!
For the mains, we enjoyed Pan Seared Snapper with pumpkin rice, banana relish and a lemongrass coconut sauce and Roasted Yardbird with cassava mash, burnt onion, tomato jam and fried okra.
First off, I was surprised by the amount of chicken on the plate. It was like half a chicken cut up. The chicken was cooked perfectly and was well seasoned. My favourite way to eat it was to take a piece of the chicken, some of the mash, a little bit of the jam and a piece of onion and eat it all together. Flavour bomb for real.
And while I loved the chicken dish, the snapper was better. The fish was seared beautifully, and the rice was a wonderful accompaniment. But the sauce was everything. The lemon grass and coconut elevated the dish and made it such a standout.
For dessert, we were spoiled with Pumpkin Bread Pudding with black rum and spice leaf ice cream and Bermuda Baked Alaska with meringue, strawberry ice cream, berry juice and basil.
Both were delightful, but the Baked Alaska was the winner. The meringue was decadent but still light and the ice cream was full of fresh strawberry flavour. Plus, it was so pretty and reminiscent of a Bermuda house.
Overall, the meal was hands down the best I've had during this year's RW. The menu was also the most Bermuda inspired I've seen without being typical. Chef Danai and his team did a really good job in capturing Bermuda and plating it up. I highly recommend checking out Marcus' before RW ends on Sunday. You will regret not going!

This year's Restaurant Weeks is running from January 17 to February 3, with 49 participating restaurants. The three levels of pricing for dinner are $32, $42 and $52, and lunch is also being offered for $22. You can view all our coverage of Restaurant Weeks here, the full list of menus here, and all coverage of cuisine here.

Read More About
Category: All, Entertainment, News