At 1.32am on June 7th, "Cedar" — this years' star CahowCam chick — fledged out to sea with thousands of followers around the world watching in real time, and, according to the experts, if all goes well she will return in 3 to 5 years, often times landing within yards of her original nesting burrow.
"She is one of five that have fledged thus far this season from Nonsuch Colony A, with another 8 or 9 remaining. This rate is similar to the rest of the Colony where about a third have fledged, keeping us on track to a projected record number of 73 chicks that may fledge this year," a spokesperson said.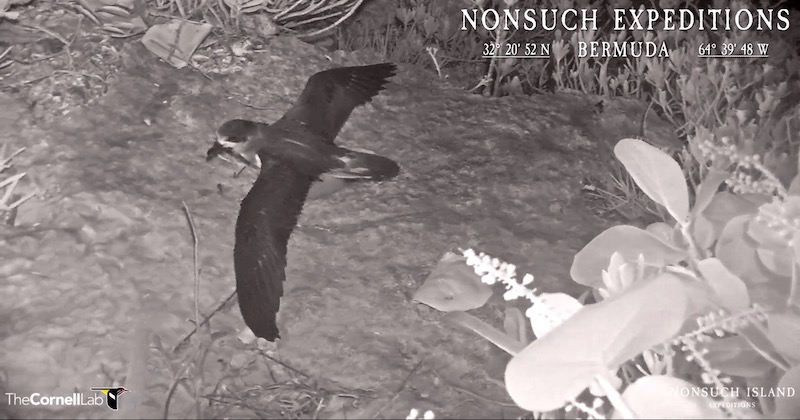 Jeremy Madeiros, Senior Terrestrial Conservation Officer, The Department of the Environment and Natural Resources said, "We are relieved to be able to see her fledge which is a satisfying conclusion to the 7 month process which started when her parents returned to Nonsuch to nest build and court last November.
"Whilst Cedar may have fledged, our work is not over, as there are at least two chicks that needed to be rescued due to insufficient feeding by their parents and the remainder of the chicks throughout the Colony which need to be monitored and managed until they fledge, not to mention all of the Tropicbird chicks, that have been hatching early this year."
Deputy Premier and Minister of Home Affairs, Walter Roban said, "Following World Environment Day and in advance of World Ocean Day, I find the progress made by the Nonsuch Expeditions in collaboration with our Department of the Environment and Natural Resources team very encouraging.
"As you know, our Bermuda environment is very important to me, and the preservation and protection of our island and its indigenous species remains a top priority for the Ministry of Home Affairs. We should be very proud of the efforts that have brought our cahows back from near extinction and the efforts to share this project with the world."
Cedar the 2019 CahowCam chick fledging
Jean-Pierre Rouja, Nonsuch Expeditions Team Leader said said, "The live viewing of last nights activities was made possible by the installation of a brand new 'Above Ground' infrared capable camera that we have just launched in conjunction with the DENR and the Cornell Lab Of Ornithology Bird Cam Team.
"This is now our 4th Cam, adding to CahowCams 1&2 and a new Longtail TropicbirdCam which is proving to be very popular. This is a perfect example of adapting and developing technology to assist with Conservation and Educational Outreach. Please keep watching the live CahowCam to see how Stormy, Cedar's ever persistent roommate reacts to her departure."

Read More About
Category: All, Environment, Videos