"We owe you a great debt of gratitude," BIU President Chris Furbert told Ottiwell Simmons today as he announced that his name has been added to the BIU Headquarters building.
The new signage was unveiled at today's Labour Day celebrations, with the crowd applauding as they learned that the name of the long-time former president had been added to the Bermuda Industrial Union headquarters.
The pioneering Bermudian trade unionist — who was present at today's Labour Day celebrations — is widely regarded as having been instrumental in the island's modern labour movement.
As president of the BIU between 1974 and 1996, he spearheaded the years'-long drive to see the island's largest labour union housed in its own purpose-built headquarters, and the new BIU building was officially opened in 1987.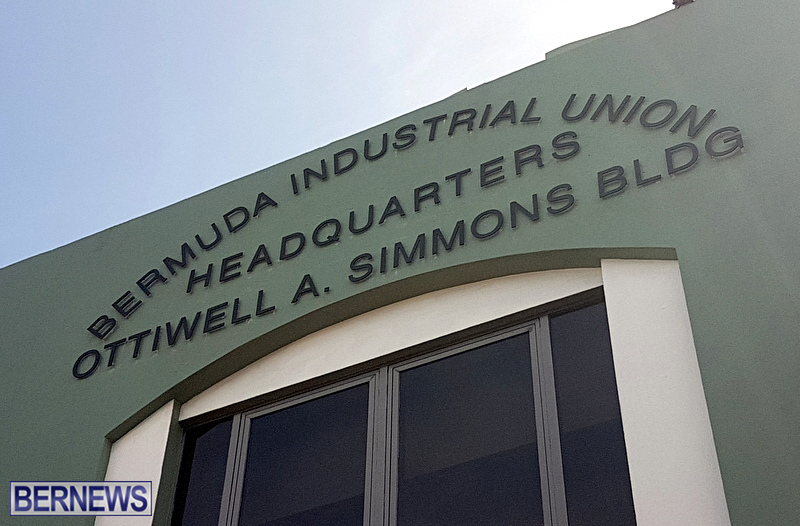 In announcing the new name, BIU President Chris Furbert said Mr. Simmons had previously declined to have his portrait included on a mural featuring prominent labour leaders Dr. E.F. Gordon and Dr. Barbara Ball which was painted on the exterior of the building a number of years ago.
"But the executive board and general council decided we needed to do something to honour Ottiwell Simmons," he said.
Pointing to the new signage above the main entrance, he continued: "So what you'll see in front of you now if you look up is 'Bermuda Industrial Union Headquarters — Ottiwell A. Simmons Building'."
Mr. Furbert then joked: "And we weren't going to get his permission for that. We just did it. And I don't want to see him go and get a ladder and try and take it down."

Read More About