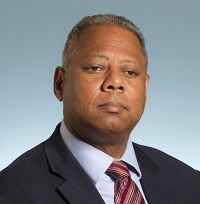 [Updated] Calling him "a long-standing passionate advocate for social justice in Bermuda," the PLP said they "join with Bermuda in mourning the passing of Walton Brown."
The well known Member of Parliament, author, academic and social justice advocate passed away earlier today at the age of 59.
According to his biography on the official Parliament site, Mr. Brown was an alumnus of West Pembroke School, The Berkeley Institute and Bermuda College. He earned his Bachelor of Arts [Hons] in Political Studies from Queen's University and his Masters Degree in Political Science from York University, both in Canada.
He authored many academic papers and published extensively in academic and mainstream media, made numerous presentations at conferences throughout Europe, the Americas and the Caribbean, and wrote the "Bermuda and the Struggle for Reform: Race, Politics and Ideology, 1944-1998″ book, which won the National Literary Award for Nonfiction in 2013.
PLP Chairman
PLP Chairman Damon Wade said, "The Bermuda Progressive Labour Party today joins with Bermuda in mourning the passing of Walton Brown JP, MP. A long-standing passionate advocate for social justice in Bermuda, his association with the PLP goes back to the mid-80s.
"During his time as a PLP Member and Supporter, he served as the Chair for Pembroke Branch and was appointed to the Senate by Premier Ewart Brown.
"In the 2007 General Election, he carried the PLP banner in the historical UBP stronghold, Pembroke West. In 2012, MP Brown was successfully elected to Parliament as the representative for Pembroke Central.
"He was re-elected in 2017 and appointed to Premier Burt's first Cabinet as Minister of Home Affairs and later as Minister for the Cabinet Office.
"The PLP will miss Walton and his strong advocacy for Bermuda's sovereignty, his determination to strengthen immigration on behalf of Bermudians, his political insight and perhaps most importantly, his friendship.
"We are thankful for having known Walton Brown and grateful for his work and sacrifice. Bermuda is richer for his commitment to our island and our people.
"Yet as the PLP family mourns the passing of a beloved comrade at arms, his family, his loved ones and his friends are also mourning his loss. We are committed to standing with his family and encourage all of Bermuda to stand with his family during this time of bereavement."
Many more tributes are expected to be paid to Mr Brown, and we will update as able.
Premier David Burt
Update 3.08pm: "Totally devastated…" said Premier David Burt today about the untimely passing of MP Walton Brown.
"My personal association with Walton goes back many years and I learned so much from him through his wisdom, experience and guidance." Premier Burt said.
"He struggled alongside us in Opposition, locked arms with us in front of the House of Assembly and spoke passionately in the House on the issues that mattered so much to him and so many Bermudians.
"In him, Bermuda had a writer, a teacher, a human rights activist, a champion for Bermuda's sovereignty, and a fighter for Bermudian workers. But our loss cannot match that of his family who now mourn a father, a brother and a son.
"On behalf of the Government and people of Bermuda, our thoughts and prayers are with his family and my hope is that in the difficult days ahead they draw strength and comfort from the sacrifice and commitment Walton brought to serving the people of his beloved Bermuda."
Opposition Leader Craig Cannonier
Update 3.11pm: Mr Cannonier said, "I want to express my sincere condolences to Walton Brown's family at this very difficult time.
"Likewise, I offer my condolences to the Premier and the Progressive Labour Party. They have lost a Party stalwart and an excellent MP who always put Bermuda first.
"As I started to get involved in politics, Walton took the time to give me some political perspective on Bermuda. His insights were, and continue to be, a tremendous help and I will always be grateful.
"Later, Walton and I used to meet often for breakfast where I had the privilege of discussing with him the direction of Bermuda, regardless of political outlook.
"It is a sad day for Bermuda and Walton will be tremendously missed."
Governor John Rankin
Update 3.32pm: The Governor said, "I was shocked and saddened to learn of the death of Walton Brown. As Governor I was pleased to engage with him both as a Member of the House of Assembly and as a Minister.
"I always found him to be a most thoughtful individual and I give thanks for his service to Bermuda. I offer my sincere condolences to his family and friends on his passing."
Read More About