The 'Patients 1st' group will be hosting a public forum on Tuesday, November 26 at 5.30pm at St Paul AME Centennial Hall in Hamilton with an objective "to help patients understand the proposed 2020 healthcare reform" with a "presentation from your healthcare professional's view."
Government statement:
A government spokesperson said, "The Minister of Health, the Hon. Kim N. Wilson JP MP, today thanked the public and all stakeholders for their continued dialogue and participation in the public consultation on the Bermuda Health Plan. The Minister acknowledged the upcoming town hall by the community group, Patients 1st Bermuda, noting that as she is overseas on essential government business, regrettably, she will not be able to participate."
Minister Wilson said, "We are very pleased with the level of community engagement in this public consultation. We have held more than 45 meetings to date with over 500 participants, and are receiving a steady flow of queries and comments to the healthplan@gov.bm inbox. This feedback is invaluable in helping to shape the next steps, and we welcome all views and perspectives."
"The Ministry of Health reminds the public that questions and comments received through official channels are being posted on its website, together with responses.
"In addition to providing factual answers to all questions on its website, the Ministry [below] reminds the public of important facts to dispel misinformation circulating on social media. The public is encouraged to email healthplan@gov.bm if you have concerns.
Minister Wilson said, "It is regrettable that I am not on Island to participate in this important town hall by Patients 1st Bermuda. I hope it generates the fruitful dialogue we have seen from most stakeholders, so we can continue to receive constructive feedback to improve access and sustainability for all of Bermuda".
"Health Plan Facts
"1. Final decisions will not be made upon the conclusion of the public consultation. Rather, this will mark the beginning of the deep-dive by working groups to design both the benefit plan and the transition roadmap. A broad cross section of stakeholders will be at the table throughout.
"2. The benefit plan has not been decided. The consultation process has allowed us to hear valuable feedback about the mock plan [e.g. insufficient prescription drug coverage, allied health omission, primary care model unpopular, etc.]. The working groups will consider the public feedback and develop the final recommendations.
"3. Payments models, fee levels and reimbursement have not been finalized. The consultation period is providing important feedback and working groups will consider a range of options.
"4. Working groups will be established when the public consultation period is concluded. They will be made up of healthcare providers, employers, insurers and patient representatives. The working groups is where the real work will happen and recommendations will be made.
"5. Reform can create opportunity rather than uncertainty. The government wants to improve access and sustainability. We see patients, healthcare providers, insurers and employers as part of the solution. Fall 2020 will not bring an overhaul of our health system or the way healthcare is practiced. The intent is to start with small steps, and stakeholders will help determine what they should be and how to phase a multi-year transition to achieve improved access and sustainability."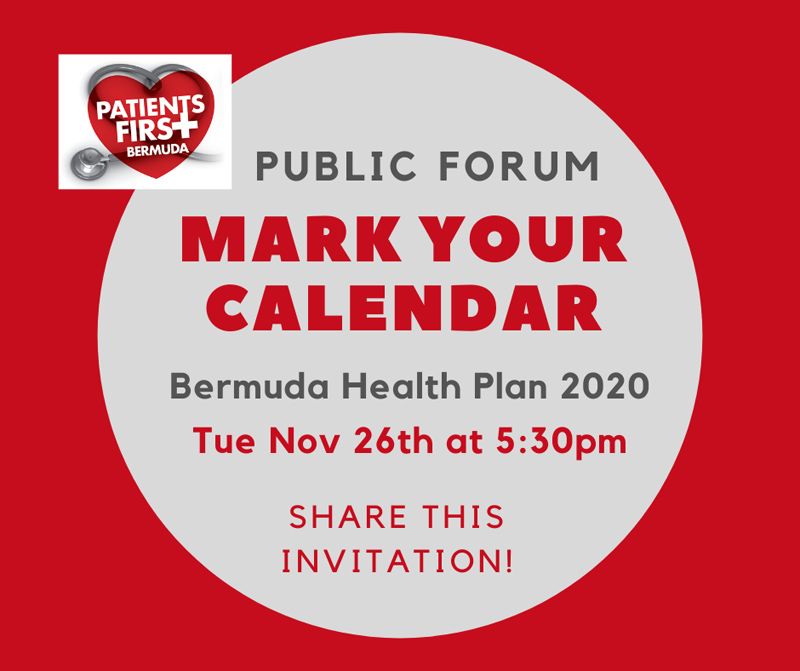 Patients 1st Bermuda statement:
A spokesperson said, "The government is proposing a complete switch from the existing health insurance system to start a new government operated system, administered by a single provider. This effectively creates a health insurance monopoly, owned by government that every resident of Bermuda is required by law to pay into it.
"When asked direct questions about what the plan looks like, government says they don't know yet," the spokesperson added.
"A strong community called Patients 1st Bermuda has formed online through social media, started by associations of healthcare providers joining together to help their patients understand the reforms and to raise awareness of the government's proposal. In the 3 weeks since it formed the Patients 1st Facebook community has grown to over 700 members of the public, increasing daily.
The group's spokesperson says "We're near the end of a 4-month public consultation period which closes next month and whenever we ask friends, family and colleagues about the Bermuda Health Plan 2020 they either don't know about it or are confused by it. That's why we say Bermuda's public needs and deserves more time to understand this."
"The Patients 1st group supports healthcare reform but considers the Bermuda Health Plan 2020 to be rushed.
Their Facebook page says, "We think Bermuda Health Care is too expensive. Healthcare reform is good. #Rushedhealthreform is not good. Patients First wants the government to postpone all health reform legislation until they can tell us in real terms what the financial impact will be for Bermuda's workers and families."
"A Public Forum is scheduled for this week – Tuesday November 26th at St Paul AME Centennial Hall at 5.30pm – hosted by Patients 1st Bermuda. It's objective is to help patients understand the proposed 2020 healthcare reform – a presentation from your healthcare professional's view.
"Answering your questions about how the reform will impact you are:
Dr. Schyler Dowling representing medical doctors,
Dr. Steven Kenny representing paediatricians,
Dr. Janie Brown representing dentists,
Dr. Jamie Burgess representing optometrists
Moderated by Dr Benjamin Lau.
"45 minutes has been allocated at the public forum for questions from the public. Everyone is encouraged to attend tomorrow to hear more about: The basic terminology so we understand WHAT is proposed, WHO it impacts, WHAT services it impacts, HOW it impacts every patient and to discuss how YOU can provide input and HAVE A SAY in the quality of your healthcare and its costs.
"The reforms will impact all residents of Bermuda; workers, retirees, children, Bermudians and non-Bermudians, people who are healthy and people with illnesses.
"People can RSVP to the event on Facebook @PatientsFirstBermuda or email patients1stbda@gmail.com. The event link is here."

Read More About