The Bermuda Carnival launch is set for January 18, with doors opening at 7.30pm, the show getting underway at 9.00pm, and an after party to follow.
A spokesperson said, "All it took was one conversation amongst friends and the ambitious vision to bring a Carnival like no other to Bermuda came to life. Five years later, the BHW Ltd. team celebrated that momentous anniversary with the largest influx of visitors, and the biggest celebration the City of Hamilton, and by extension the island of Bermuda, has ever seen for this festival.
"One vital aspect of this ever-growing goal has been, and will always continue to be, providing the platform, space, and needed support for our local creatives to blossom and shine. Through Bermuda Carnival, talented designers have made their names building a fantasy world of costume and splendor that visitors from across the globe readily travel far and wide to be a part of."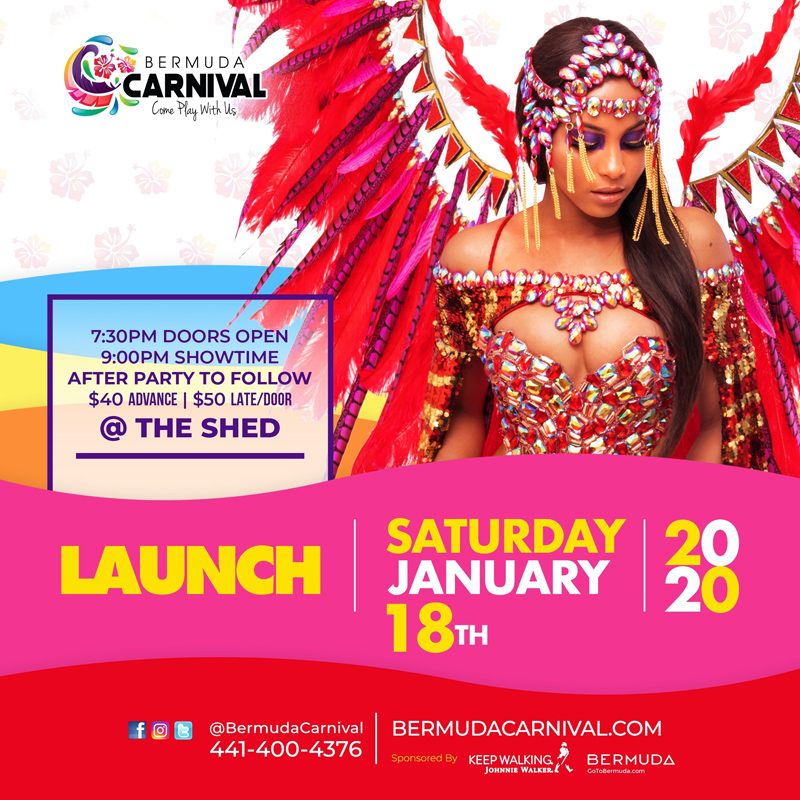 "This partnership between BHW Ltd. and all of the Carnival Bands has long been a successful and productive one for all involved. The growing number of masqueraders and the continuous increase of patrons at our January Band Launches stand as proof that not only is Bermuda Carnival here to stay, it is also only going to get bigger and better as time goes on.
"However, hand-in-hand with all growth is change, and if you are very lucky, expansion. Today luck is with us, and we are delighted to announce that two of the bands that have worked with our team, growing and flourishing with us over the last five years, are now eager and able to step out on their own.
"Nova Mas and Party People have both gracefully declined our yearly invitation to be a part of our always unforgettable January Carnival launch. Though the BHW team will miss their presence, we, as always, will support them in their ventures, and look forward to seeing their presentations on the road in June.
"This new step is filled with opportunity. It gives all parties involved a chance to revitalize and reshape the upcoming Launch Weekend into an even more exciting time for our faithful supporters. With that in mind we want to remind you that though things will be different this year, it will all still be legendary, as we focus on Code Red and you, to ensure a 2020 Carnival season, which we guarantee will be the best one yet.
"Remember, tickets are already on sale, and with this adjustment the team is raring to give you an experience beyond any you can imagine. Don't miss out as BHW Ltd. shifts into a new era of awesome for the fastest growing Carnival in the world."
For more information or to purchase tickets, visit the website.

Read More About
Category: All, Entertainment