The Department of ICT Policy and Innovation [IPI] will hold the third annual Cybertips Digital Leadership Conference on February 20 and 21 at the Fairmont Southampton.
The theme of this year's Conference is: Leadership in a Digital Age and 800 of Bermuda's middle and high school students are invited to attend. The Conference will also feature a free evening event on Restorative Practices in Schools for educators and parents.
"The 2020 Digital Leadership Conference provides students with information on social impact and community engagement, leadership, business and entrepreneurship, law and advocacy, game design and development, media arts and more," said Sloane Johnson, who is the Acting Junior Analyst of ICT Policy and Innovation.
"Our students are already spending large amounts of time online and learning some amazing skills while they are at it. Through this Conference, they will learn how to harness these skills and put them to good use."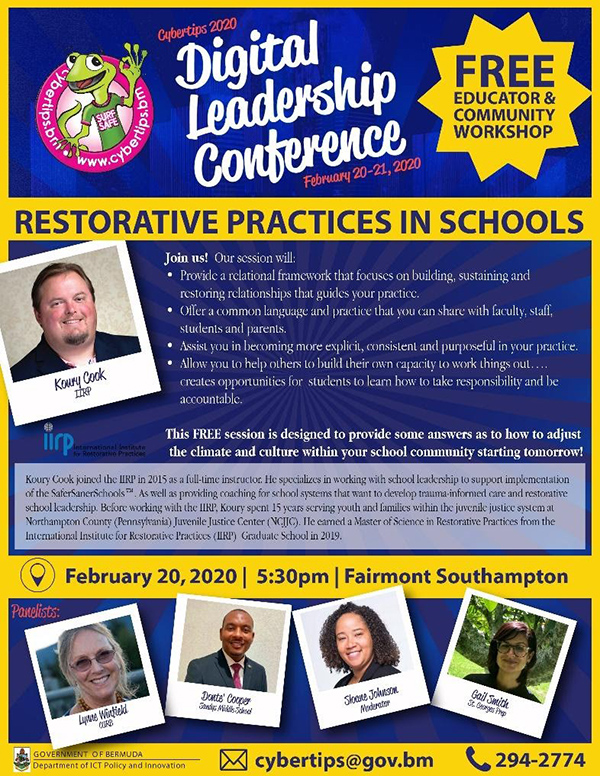 The aim of the Conference is to empower and protect Bermuda's students using proven best practices and innovative, with localized programmes focusing on the ever-changing digital landscape and its associated benefits and risks.
Premier David Burt said: "We have many bright and talented young people in Bermuda, who are quick to take advantage of opportunities to better themselves."
"The topics covered at both the conference and in the Digital Leadership Magazine have been influenced by Bermuda's young people who have participated in the planning and execution of this year's event. "
The Cybertips campaign was developed to not only inform, but also to train Bermuda residents to be able to take matters into their own hands, face cyberbullying at their level, and to be an upstander in our community. An "upstander" is someone who recognizes when something is wrong and acts to make it right.
The Conference is organised by Mrs. Sloane Johnson, and a steering committee comprised of middle and high school representatives from various local schools. It is designed specifically with that demographic in mind. The steering committee members work with local and international subject matter experts to ensure that the Conference is valuable to students, educators and parents.
The Conference is supported by local businesses who not only see the value in technology education but the promotion of positive digital citizenship as well. The Department of ICT Policy and Innovation said they would like to thank Axis Capital, Platinum Sponsor, the Department of Energy, the various local speakers who have donated their time and all of the 2020 Digital Leadership Conference Volunteers.
For more information about the 2020 Digital Leadership Conference or the Cybertips Programme please contact Sloane Johnson at 298-7168 or cybertips@gov.bm.

Read More About
Category: All, technology