The Bermuda Environmental Sustainability Taskforce [BEST] is reminding the public to practice sustainable fishing in order to ensure that local fish continue to be available for everyone.
A BEST spokesperson said, "Please practice sustainable fishing habits; ensure local fish continue to be available for everyone's future enjoyment!
"Spearfishing requires a license from the Department of Environment and Natural Resources [DENR] and may not be conducted within one nautical mile of the shoreline. A special permit is required to spear lionfish close to shore.
"Netting is prohibited at the following locations: Somerset Long Bay; Shelly Bay; Whalebone Bay; and Coot Pond. Recreational fishers are only permitted to use a cast net not exceeding eight feet in diameter.
"No fishing is permitted around protected dive sites – radius varies from 100m to 1km as indicated on marker buoys and in the Fisheries [Protected Areas] Order 2000.
"Do not take juvenile fish – this is an unsustainable practice and harms Bermuda's fishery, which impacts everyone. Follow the minimum legal size restrictions on the regulation sticker available from DENR.
"Respect the daily bag limits and catch only what you need. Taking more than your allowance of fish could harm our fishery and takes from everyone else
"Fishing from public parks and beaches is not permitted where signposted.
"Dispose of fishing line responsibly – monofilament line takes around 600 years to biodegrade and when left underwater can entangle and harm marine life, including turtles, whales, and other fish.
"Cut out single use plastic – plastic pollution of our oceans leads to plastic particles inside the fish that we eat — take your trash home with you.
"Visit here for copies of the Fisheries legislation.
"If you see any illegal or harmful fishing activity, please contact the Fisheries Wardens on 535-4615 or email fishwardens@gov.bm. A friendly reminder from the Marine Conservation Team at Bermuda Environmental Sustainability Taskforce."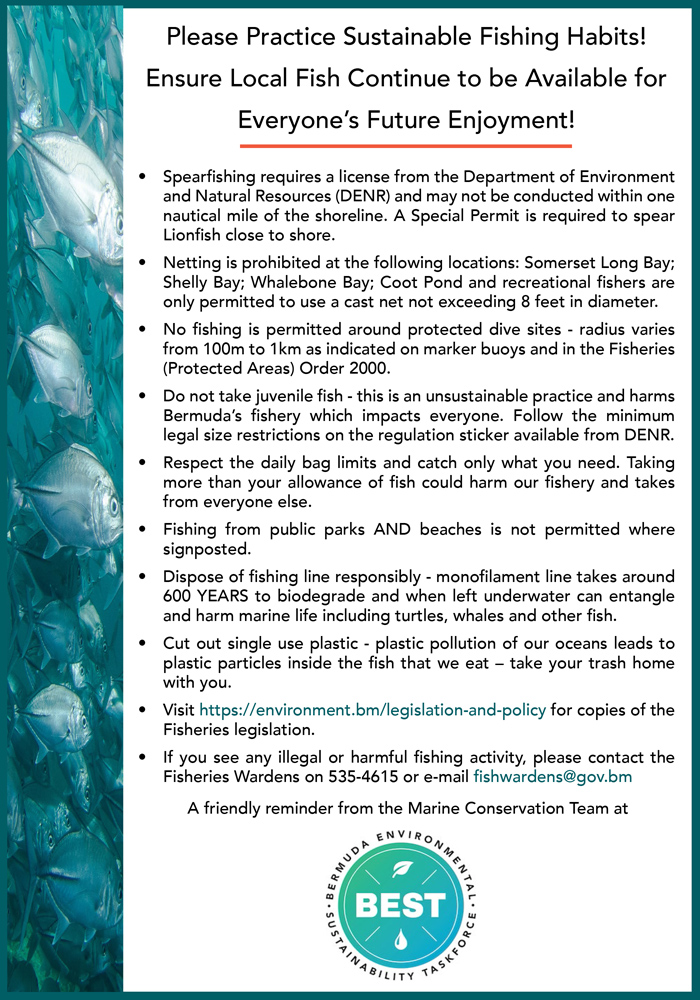 Read More About
Category: All, Environment