The Royal Bermuda Regiment's new Commanding Officer today [SUN] outlined his plans for the future shape of the battalion.
Lieutenant Colonel Ben Beasley – the youngest CO, but with the most operational and full time service in the RBR's 55 year history, said he aimed to forge a Regiment that reflected a modern and global facing Bermuda that offered routes to the acquisition of skills inside Warwick Camp and marketable in civilian life.
Col Beasley added: "One of my goals is making sure the Regiment provides support for our soldiers that helps them progress through the service.
"Whether it's been three years or 30 years, we want to make sure they are given what they need to succeed."
New RBR Commanding Officer Lieutenant Colonel Ben Beasley outside Government House with Governor John Rankin, the Commander-in-Chief of the Regiment after he was sworn in in June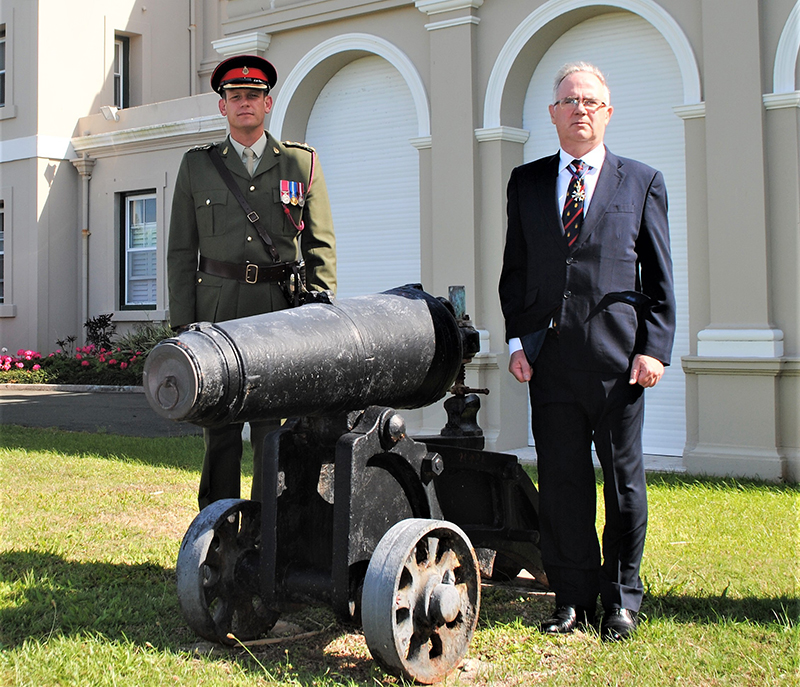 Col Beasley said: "It's really important, as the Regiment becomes more agile, that we are looking at what we will need to do in five or ten year's time."
He added that the Covid-19 crisis, which led to the longest deployment of the island's troops since World War II, highlighted the need to be ready to tackle new problems.
Col Beasley said: "We certainly began the process with Covid-19 – we were able to support a medical requirement and we were able to do it successfully.
"No one could have foreseen the pandemic – but here we are. It underlines that we need to be ready for future threats."
Col Beasley, in his first major interview since he became acting Commanding Officer last October aged 39, said that the pandemic was a unique challenge – but that he did not have time to be worried about the scale of his new responsibilities, which now includes the new Bermuda Coast Guard.
He added "In 2018 I participated with the military, security, and health services in London for an exercise based on pandemic outbreak.
"Although I had proposed we should make this a scenario locally, it became an actual event, less than two years later – so the regiment was well prepared when Covid struck."
The former regular Royal Air Force officer, confirmed in the post in June, added: "I have been in the uniformed services my entire working life – it's not like I am new to the job. We are trained to rise to the challenge and the RBR did not let the country down."
Col Beasley said: I am privileged to serve in one of the most rewarding roles in Bermuda.  The Royal Bermuda Regiment is the sole remaining military unit in Bermuda, with a history of protecting the Island's interests going back almost 420 years.
"This legacy has crafted an ethos, esprit de corps, and set of values that is unique and motivates our soldiers in every task we perform.
"Each Commanding Officer, and certainly in my case, tries to complete legacy initiatives, but also set the conditions for their successors to develop capability.
"I have a few short years to ensure that the manning matches our operational requirements, not just in numbers and skills, but also demographics.
"Bermuda boasts a wide range of capability from across the community, and it is important for us to represent the country we serve, and in simple terms we do not have enough woman commanders.  It is my job to see that is changed – and it will be done."
Col Beasley highlighted that the RBR conscripted young men only for 50 years and it would take time to reflect the number of women who had chosen to serve – as well as provide attractive conditions for more mature recruits with specialist skills who wanted to give back to Bermuda.
He said: "In particular, we haven't had any serving female officers for decades, and attracting quality personnel is a challenge, though early indicators are that we are on the correct path.
"There may be an uncomfortable change to the status quo, but Bermuda has much to offer and my team will ensure that we reflect a modern society even if it comes at others' expense.
"The goal is always to maintain agility and adaptability but without sacrificing dependability.
"Soldiers are usually well motivated, so it is my ambition to ensure that they continue to have a meaningful role in Bermuda's security and that they are well trained, invested in, and given opportunities for personal and professional growth."
Col Beasley added: "There are two very clear cases for this – one is the moral one, because we must properly reflect the society we serve and there is also the business case.
"The more diverse skills we have, the better we will grow. These are not just found in men aged up to 45.
"Many people are looking for some way to look after their country – they can bring skills with them and considerable life experience, as well as a track record of reliability."
Col Beasley said the RBR also had to maintain its ability to respond to natural disasters like hurricanes – and other weather-related problems that could arise because of changing weather patterns.
"We have a superb relationship with Ministerial headquarters, including the new Disaster, Risk, Reduction, and Mitigation Team – it's great to have someone else who seeks to understand our role.
He added: "Global warming, rising sea levels and transient populations are all matters that demand our attention.
"As an Island, our blue economy is essential to many livelihoods, whether it is safe passage for cargo ships, protecting our fish stocks, or ensuring leisure on the water can be enjoyed safely by residents and tourists.
"The continued development of our Coast Guard remains the top operational priority of the Regiment, and we feel well supported by the ministry and Government House to bring it to full capability for the benefit of all Bermuda."
Col Beasley added that the RBR was positioned as a regional resource for the Caribbean – especially the other UK Overseas Territories – and had deployed to the south to help in hurricane recovery.
He said: "The Cayman Islands have started training their country's regiment and Turks & Caicos has appointed its first commanding officer. We provided basic training for the first officer recruits in the Caymans, who have now successfully completed training at the UK's Royal Military Academy, Sandhurst.
"I intend that we will have interoperability in the years ahead, work with each other and share resources, to everybody's advantage.
"As the senior Regiment in the region, it's up to us to assist the other units as they grow. It also provides opportunities for our soldiers to go to the Caribbean for training and for us to host soldiers from the other Overseas Territories."
Col Beasley added: "I am focused on the future, as well as mindful of the courage and tenacity of our predecessor units. I want to bring the greatest value I can to the RBR in my years of command
The former RBR training officer graduated from RAF Cranwell, the service's officer training academy, in 2006 and worked in training and education focused on the North Atlantic Treaty Organisation and in British air policing operations.
He also helped establish the stand-up of RAF flying and ground-based squadrons for operations during conflicts in Afghanistan and Iraq before he returned home to Bermuda.
He earlier served as a reserve police officer and has worked to promote the welfare of young people with the Outward Bound Bermuda programme and Beyond Bermuda Rugby.
Colonel Beasley was awarded the British Empire Medal in 2018 for his services to the community.

Read More About