Claire Grenfell, Chelsea Jacobs, Collette Simmons, Keri Pacheco, Mychel Jones, Karen Simmons, Fiona Holmes, Leslie Grant, Julia Clarke, Hannah Collins, and Margot Shane all graduated from the Nonprofit Leadership Development Programme.
A spokesperson said, "Bermuda's nonprofit sector got a boost this week as 11 individuals graduated from the Nonprofit Leadership Development Programme. The course is sourced from the University of Milwaukee and certification has been granted to about 20 nonprofit professionals in the past two years."
"This is a well-respected training programme, which is why we have supported it since its inception in Bermuda in 2018," said Dr Myra Virgil, Managing Director of the Bermuda Foundation.
"In light of the year we have just gone through with the pandemic, we know more than ever how important it is that the nonprofit sector is professionally qualified for the job.
"Since March, vulnerable and unemployed people in Bermuda have been fed, sheltered and cared for by essential-service nonprofits. Other nonprofits have also had a challenging year. Bermuda's nonprofits need to be sustained, and this requires qualified and competent leadership. Congratulations to the 2020 graduates!"
Hannah Collins, Mychel Jones, Collette Simmons, Karen Simmons, Margot Shane [back], Fiona Holmes, Chelsea Jacobs, Julia Clarke, Claire Grenfell [Keri Pacheco and Leslie Grant not pictured] and some of the programmes' mentors [far right]: Tina Nash, Suzanne DeCouto and Lisa Sheppard. Also pictured [far left]: Dr Myra Virgil for Bermuda Foundation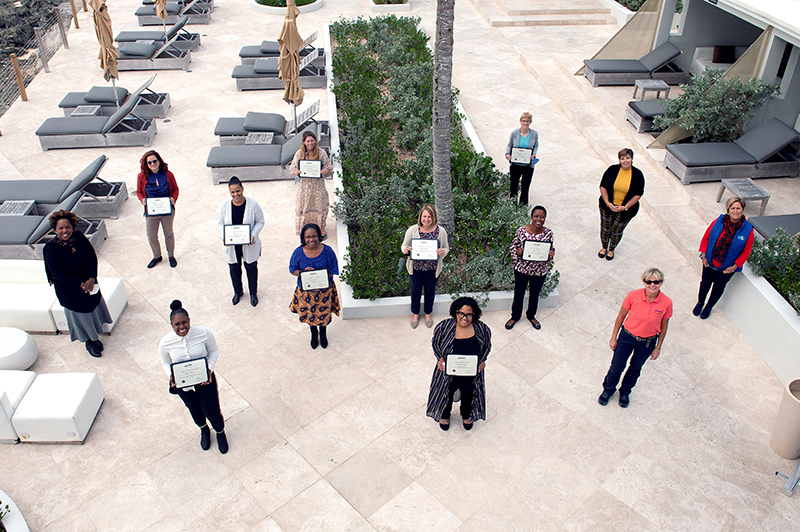 In addition to studying online, participants meet with mentors once a month, and engage with a network of industry professionals through talks and presentations. Topics studied include fundraising, board and volunteer development, budgeting, finance, leadership, marketing and strategic planning.
"It's a rigorous programme but all graduates tell us they have found it valuable, particularly acknowledging the opportunity it has provided to network with peers and nonprofit leadership," said Dr Virgil.
Since its inception the programme has been funded by BCF, with contributions from the Bridge Charitable Trust and Cummings V. Zuill Scholarship. It will be coordinated by the Inter-Agency Committee [for Children and Families] in the future.
Dr Virgil expressed appreciation for the early work on the programme by YouthNet and the Centre on Philanthropy and thanked all those who had generously given their time to mentor participants.
The graduates represent a wide range of nonprofits such as: Summerhaven, Waterstart, Gina Spence Productions, Raleigh Bermuda, Impact Mentoring Academy, The Chewstick Foundation, The Mirrors Programme, Focus Counselling Services, The Family Centre, Bermuda Cricket Board and Duke of Edinburgh's Award Bermuda.

Read More About