[Updated] An Amendment has been posted online which states that "each person 16 years and above who is landed in Bermuda shall, upon arrival, be fitted with a traveller wristband to be worn for a period of 14 days from the date of arrival in Bermuda."
The Quarantine [Covid-19] [No. 3] Amendment [No. 6] Order 2020 also states that," Any person who refuses to be fitted with a traveller wristband as required under subparagraph (1), shall— be placed in quarantine for 14 days in the manner as provided under paragraph 14; and be fitted with an electronic monitoring bracelet as provided under paragraph 20(1A), during the 14 days."
It also states that anyone who "removes or causes to be removed a traveller wristband" commits an offence and is "liable on summary conviction to a fine not exceeding $500; and shall "be placed in quarantine for a period of 14 days and be fitted with an electronic monitoring bracelet during that period."
The stated operative date of the amendment is December 8th, 2020 – as in today.
Minister of Health Kim Wilson had previously mentioned this in the House of Assembly on Friday, saying: "To assist in the identification of travellers, the Government proposes to implement a 'traveller wristband' to be worn by all those arriving on island until they test out on Day 14 with a negative test result.
"The Government is aware that not knowing who has travelled recently is causing some anxiety in the community. This can be allayed, to a certain extent, by requiring all travellers to wear the wristband. As each test day comes due, the testing team will check to ensure the traveller wristband has not been removed.
"This provides an easy way for businesses, for example, to know that it is a recent traveller who is patronising their establishment," the Minister said in Parliament.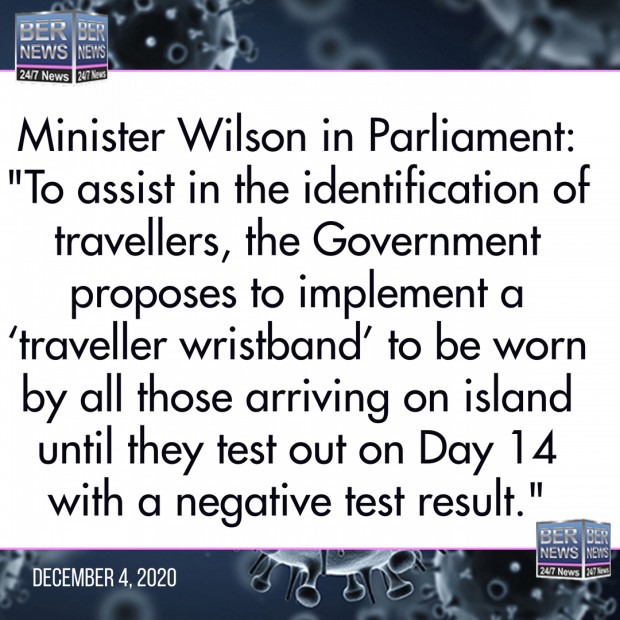 Update 9.20pm: Speaking at this evening's press briefing, Minister Wilson said, "I want to remind the public that effective today, 8th December 2020 all residents and visitors to Bermuda are required to wear a Traveller Wristband for the first 14 days of their stay.
"The Wristbands serve to remind travellers to be careful of their movements and follow the "First 14 Days" guidance in order to help us minimize COVID spread. The Wristbands also remind the public of the additional precautions for travellers during those first 14 days.
"However, I want to remind everyone that Bermuda's borders are open and we continue to welcome visitors and our returning residents home. The increased number of COVID-19 cases has made it necessary to step up a number of precautions across many sectors, in order to avoid more stringent measures.
"But Bermuda is known for our hospitality and friendliness, and the Wristbands should serve as a reminder to locals to extend a warm welcome to the wearer and show our traditional warm, Bermudian hospitality. While we have to maintain our physical distance, we can and must show even greater kindness and cordiality to all incoming travelers.
"I should note that removal of the wristband is not permitted and can result in a fine of $500 and home quarantine with an electronic monitoring bracelet. Persons who do not wish to wear the Traveller Wristband will quarantine at their accommodation for 14 days."
Bernews has asked the Government for a photo of the wristbands and will update if able.
The full Quarantine [Covid-19] [No. 3] Amendment [No. 6] follows below [PDF here]:

As the island and world deals with the Covid-19 pandemic, we are doing our best to provide timely and accurate information, and you can find more information on the links below.
Read More About