Following the news that Gencom reimbursed the Government the $11 million that had been paid to approximately 700 employees of the Fairmont Southampton, the Premier said that it is "noticeable that we have had silence from the usual commentators or the Opposition, who criticized this arrangement that was made by the Minister of Finance."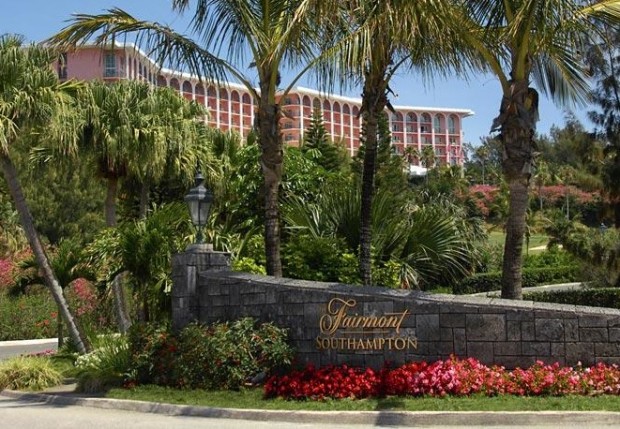 $11 Million Paid Back
Late last year, the Government confirmed that they will step in to assist Fairmont Southampton workers who were waiting for their redundancy payments, making "loans to employees equal to amounts due to them in redundancy, which will require repayment once sums are paid by Gencom."
The Minister of Finance confirmed that on January 29, 2021"Gencom repaid the full amount that the Government loaned to the former employees, approximately $11 million" and "it has been agreed the Government will be reimbursed for all legal and professional fees incurred on this matter."
Minister of Finance Curtis Dickinson said that "this repayment is an excellent outcome of the Government's action which has eliminated the Government's financial exposure in relation to the employee loans."
The hotel owners said, "We continue to press on with our business plan, which includes executing on the substantial renovation of the Fairmont Southampton. We're all looking forward to returning this significant and iconic property to its former glory as Bermuda's premiere resort for both locals and visitors.
"While it has been an unconventional path thus far, Gencom has a wealth of experience in this arena and a successful track record worldwide. We are very confident in our ability to effectively manage the Fairmont Southampton's redevelopment while navigating these highly unusual circumstances.
"As we make headway, we will continue to build a close and constructive relationship with the Bermuda Government to work toward a successful outcome for all."
Premier David Burt's Comments
Speaking at last night's [Feb 2] press briefing, Premier Burt said, "The Minister of Finance the Hon. Curtis Dickinson announced that the government had been reimbursed the approximately $11 million loan that was paid to the 700 employees of the Fairmont Southampton by the owners Gencom.
"The payment from the Government to the workers in October 2020 was necessary, as there was no guarantee from the owners, when they would be able to make the payment themselves. This Government is committed to ensuring that workers are respected and can live their everyday lives with dignity, especially during these difficult times.
"The employees of Southampton Princess, were not given a handout, but rightly paid what they were owed. Our intervention was an important demonstration that people will always be given priority over profits by the Government of Bermuda.
"I must however say this. It is noticeable that we have had silence from the usual commentators or the Opposition, who criticized this arrangement that was made by the Minister of Finance. It is okay. You can tell the Minister of Finance, "Job well done", and that you may have been wrong.
"Bermuda is fortunate to have a Minister of Finance of the calibre of Curtis Dickinson, and I want to congratulate him publicly for his work in this because I know that it has been incredibly tiring but he has made the Government proud.
"As I said last week we must have confidence in ourselves to work together and to solve the problems together. And in this case, in this instance, the Minister of Finance has done that. And Minister of Finance, I know that Aunt Laverne would be very proud.
"I would also like to thank Gencom for keeping their word. Now, it is on to the next phase of the development, and we're going to be working and engaging with GenCom on that, to make sure that we can advance the redevelopment of that property, so that we can have it open, as soon as possible."
Read More About