The Ministry has now confirmed that they will "award an honorarium to the successful candidate of the Marriage Room redesign, including the cost for supplies."
This follows after the Government issued the call for submissions for a mural earlier this week and a person who contacted the officials seeking information posted on social media saying that they were informed that "in lieu of payment consideration will take the form of exposure," as in suggesting that there is no payment for the mural, with the matter causing a conversation on social media.
The Government has not yet responded to our requests to confirm/deny if that was the case, however the Premier replied to the tweet earlier this week saying, "Thanks for drawing my attention to this. It's not in keeping with our recent support for artists & the purchases of local art that we've placed in Government Buildings. I will follow up to get details around this, but I certainly believe artists should be paid for their work."
The Government subsequently issued this statement today, saying. "In response to questions raised regarding the recently announced call for submissions to redesign the marriage room at the Registry General, the Hon. Walter Roban JP, MP, Minister of Home Affairs stated, "It is in the spirit of an initiative that has been promoted by the Registry General since 2019 that we want to celebrate and support Bermudian artists, their work, creativity, ownership, and intellectual property. This Government has been featuring local art in numerous public spaces around the island for several years now.
"We have invited and received many submissions from local artists that have not only been exhibited by the Government for the public to see, but many pieces are also hanging in Government offices and buildings throughout Bermuda.
"The Ministry is pleased to award an honorarium to the successful candidate of the Marriage Room redesign, including the cost for supplies. We will continue to support Bermudian artists, the promotion of their work in the community, and their right to publicly express their creativity and intellectual property."
"The closing date for submissions is Friday, March 26th, 2021. For more information on proposal submissions, please contact Denise Carey at dncarey@gov.bm
"The Registry General is also inviting photographers with images of Bermuda weddings/ceremonies to share their photos for display in the marriage room. If you are interested, please also contact Denise Carey."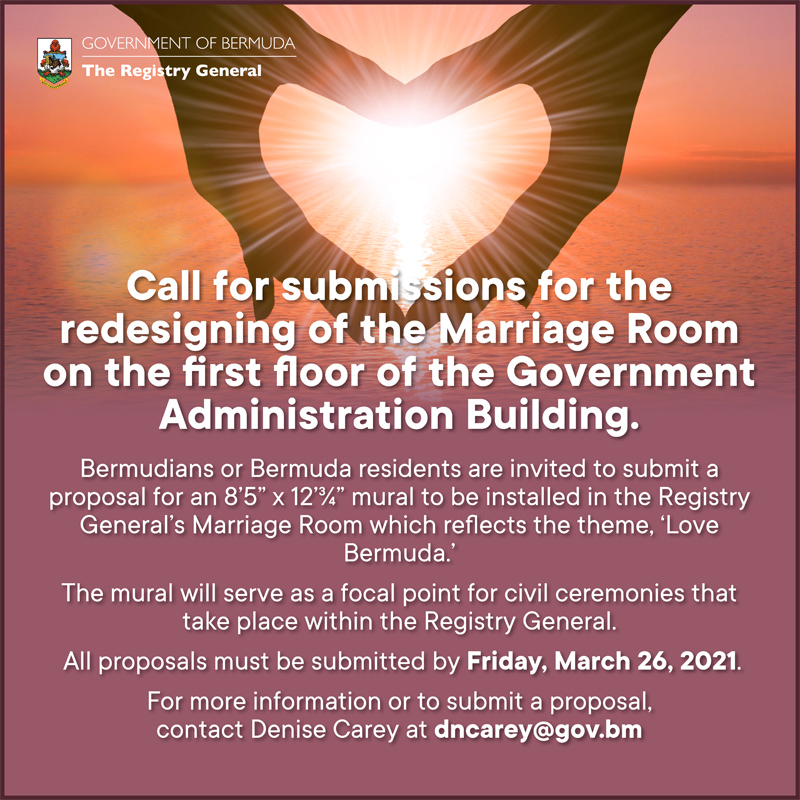 Read More About
Category: All, Entertainment, News