Raleigh Bermuda is offering its thanks to community members who purchased diapers, food, and formula for donation over the Easter holiday.
A spokesperson said, "On March 31, 2021, Raleigh Bermuda appealed to the community for donations for the Alumni Relief Programme and received an overwhelming response of donations from the community.
"Raleigh Bermuda would like to say thank you to community members who over the Easter holiday weekend went out of their way to purchase diapers, food and formula for our Raleigh family members.
"However, these donations meet our immediate needs and the urgency for food is an ongoing weekly need. Raleigh is appealing to the community for donations that will continue to help our many young Bermudians during this hardship.
Raleigh Alumni Emergency Relief Team Members Jahkera Tucker and Tajshana Tucker: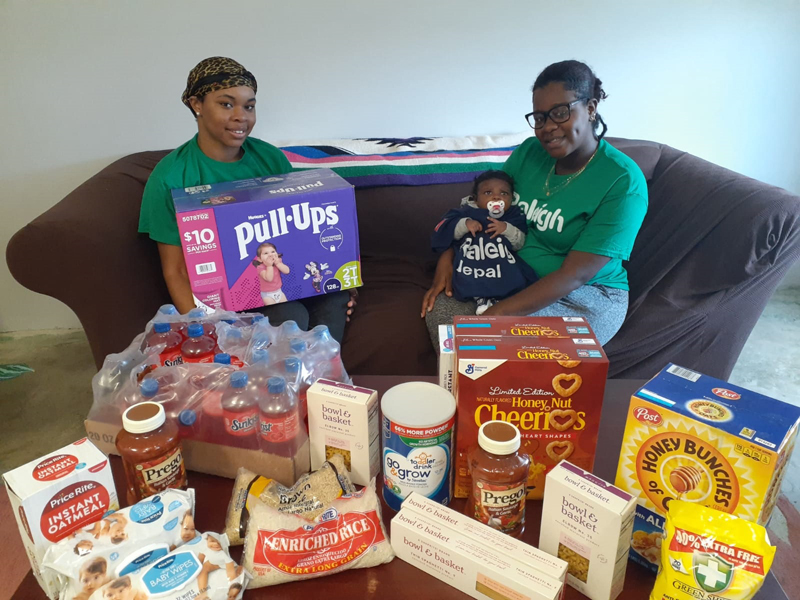 "Raleigh Bermuda currently has over 170 Bermudian alumni between ages 18 and 35-years-old who continually receive coaching, mentoring, and support from the charity.
"The pandemic has had a direct impact on Raleigh family members where many have lost their jobs and are struggling to provide food and basic necessities for themselves and their children. Aside from hunger, many of our young Bermudians are also struggling with depression, drug addiction, isolation, suicide, and finding themselves in abusive environments.
"During this pandemic, we also saw an increase in violence in our community from domestic abuse to street violence. To tackle this immediate issue, Raleigh launched their 'I Am Brave: Youth Against Violence' Programme, expanding their outreach to high school students ages 14–17 by providing introductory life skills on healthy relationships and anti-violence education.
"To further help our young people during this increase of violence and abuse in our community, Raleigh also opened a safe space called Malcolm's Room to help young people have a place to escape abuse, harm, and toxic environments.
"Raleigh Bermuda alumni have also stepped up to create the 'Raleigh Emergency Relief Team.' The team has taken on the important task of addressing alumni needs, helping to provide food, and assisting with fundraising projects for the Alumni Relief Programme. These team members include Chloe Baron, Kandrea Romaine, Jawonday Smith, Tajshana Tucker, and Jahkera Tucker.
"Raleigh is the only organization on the island that has worked continuously with young people starting from the age of 17-years-old by providing them with the survival and life skills to become confident, productive members of our community and to successfully manage the transition to independence and adulthood.
"Raleigh also works closely with the Courts and Probation/Parole Services and the Department of Child and Family Services to provide our young Bermudians one-on-one coaching, wellness support, and the opportunity of a life-changing experience in an overseas expedition.
"Over the years, the programme has evolved to provide increased and individualized support, but the underlying mission is still the same: create a safe positive space for young Bermudians to be challenged and reach for higher heights.
"Please help and make a donation. Your contribution changes lives. To make a donation via online banking, please visit Raleigh on PTix. For more details on how to donate, please contact Raleigh Bermuda at info@raleigh.bm or call 333-5678."
Read More About
Category: All