Subtropical Storm Ana formed early this morning [May 22], becoming the first named storm of the 2021 Atlantic hurricane season, with Ana making its appearance in advance of the 'official' start of the hurricane season on June 1st.
The Bermuda Weather Service said that Subtropical Storm Ana is a "potential threat to Bermuda, with its closest point of approach to Bermuda within 72 hours forecast to be 163nm to the NE at 3pm today.
However the BWS noted that, "A Tropical Storm Watch is valid due to the close proximity of the system and sea state, though tropical storm force winds area very unlikely. It is likely that this watch will be terminated during the afternoon/evening as the system begins its northeastward pull."
"It is forecast to move away from Bermuda this afternoon. While Ana meets the criteria for being a Potential Threat, sustained winds of 34 knots are not likely to reach our Marine Area."
The BWS forecast for today states, "Recently formed Subtropical Storm Ana remains to the northeast and will continue to drift nearby today before quickly lifting away to the northeast on Sunday.
"Breezy conditions and periods of showers continue before easing and drying in time for Sunday. Monday then sees the return to fair skies before the gradual approach of a trough and front from the north, poised to reintroduce wet weather. A tropical storm watch remains in effect."
Graphic courtesy of the BWS: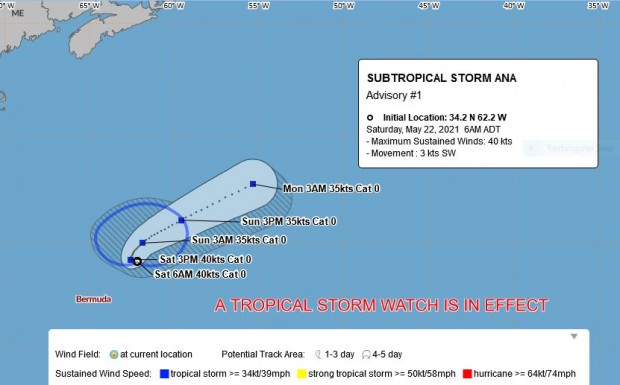 The U.S. based National Hurricane Center said Ana has "maximum sustained winds are near 45 mph (75 km/h) with higher gusts. Little change in strength is forecast today, but gradual weakening is expected tonight and Sunday. Ana is expected to dissipate in a couple of days."
Read More About