[Updated] Tropical Depression Eight is a "threat to Bermuda", the Bermuda Weather Service said, with its closest point of approach to Bermuda within 72 hours forecast to be 93 nm to the east at 10am today [Aug 16] with the BWS noting that "this system may move closer to Bermuda after this time period depending upon its track."
Graphic courtesy of the BWS: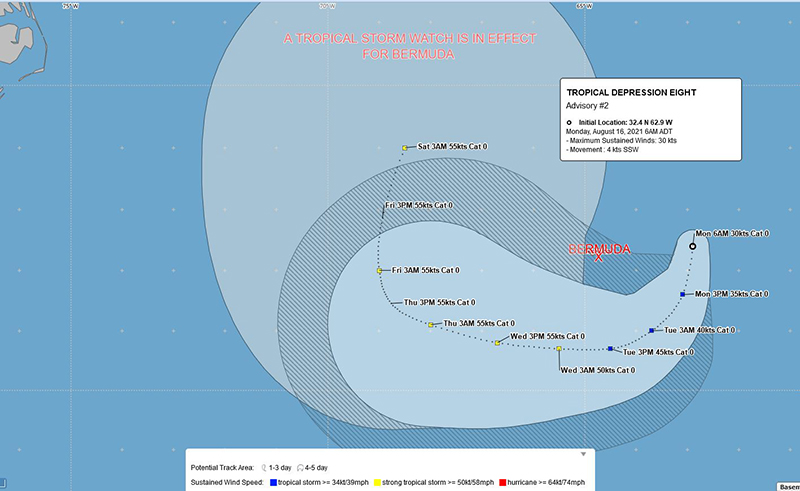 In an online post, the BWS said, "Tropical Depression 8 formed on the doorstep last night, prompting a Tropical Storm Watch for Bermuda. TD8 is currently just under 100nm to Bermuda's east, moving south.
"It is expected to skirt south of the Marine Area over the next couple of days, bringing potential tropical storm force winds and occasional heavy downpours in the next 48 hours. Please monitor www.weather.bm for up to date information on this rapid evolving system."
The latest forecast from the U.S. National Hurricane Center said, "At 500 AM AST [0900 UTC], the center of Tropical Depression Eight was located near latitude 32.4 North, longitude 62.9 West. The depression is moving toward the south-southwest near 5 mph [7 km/h] and this motion is expected to continue this morning.
"A slow clockwise turn toward the southwest and west is anticipated during the next couple of days, followed by a continued westward motion on Wednesday. On the forecast track, the center of the depression will pass to the southeast and south of Bermuda during the next few days.
Graphic courtesy of the NHC: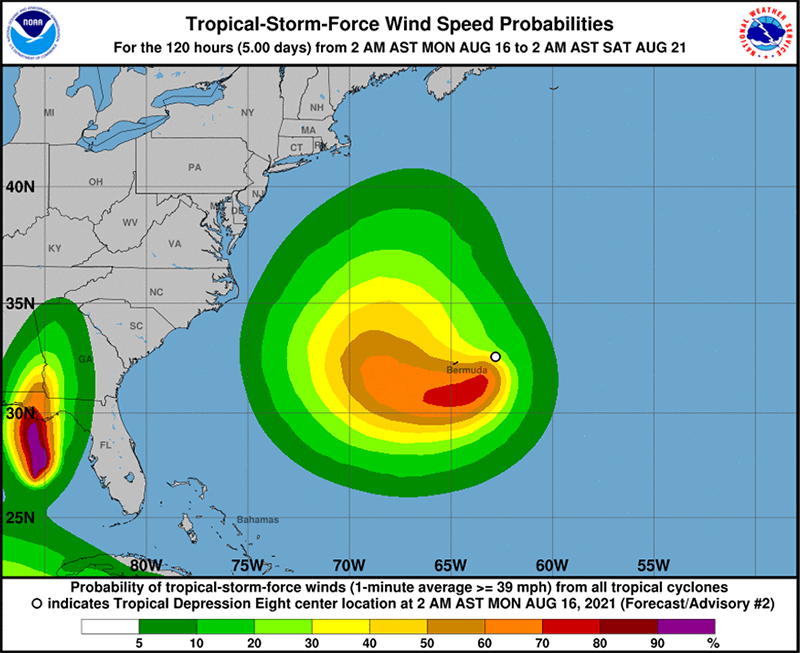 "Maximum sustained winds are near 35 mph [55 km/h] with higher gusts. Slow strengthening is forecast and the system is forecast to become a tropical storm later today. The estimated minimum central pressure is 1012 mb [29.89 inches]."
Update 12.50pm: The BWS said, "Closest point of approach to Bermuda within 72 hrs has passed."
Update August 16, 7.08pm: The BWS said, "6PM, Mon 16 Aug 2021 – TD8 is now Tropical Storm Henri [pronounced 'ahn-REE']. Henri remains small, and is 125nm away to the southeast of Bermuda, so tropical storm force winds reaching 35 knots are only expected to brush the southern Marine Area. However, rainbands [such as the one that came through Sunday night] may cause some gusty conditions through tomorrow. Rough seas are likely offshore. Due to Henri's proximity to the island, it is still considered a threat, and Bermuda remains under a Tropical Storm Watch. BWS will continue to closely monitor this situation. Please check back regularly to www.weather.bm."
Graphic courtesy of the BWS: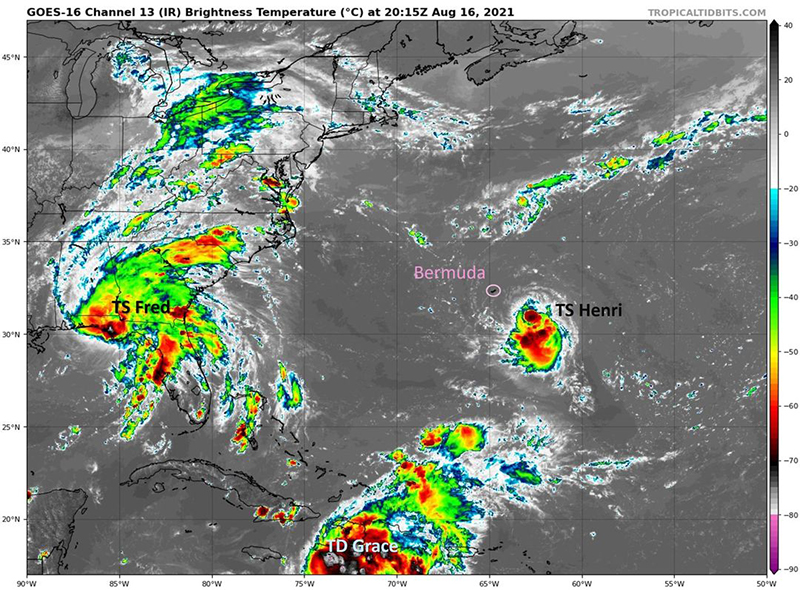 Read More About