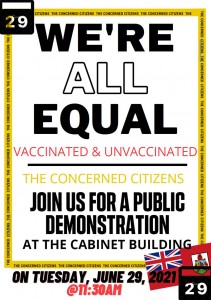 [Updating] A "public demonstration" has been scheduled for today [June 29] at the Cabinet Building, with the gathering planned for 11.30am.
A poster promoting the event said, "We're all equal. Vaccinated & unvaccinated. The Concerned Citizens. Join us for a public demonstration at the Cabinet Building on Tuesday, June 29, 2021 at 11:30am."
An email sent to the media said, "Calling on all Bermudians and residents, politicians, church ministers/pastors, community leaders/community activist and the wider population of Bermuda. No more division, no more discrimination, vaccinated or unvaccinated, we are one. You stood up for Black Lives Matter, now stand up for yourselves Bermuda."
Noting the "planned assembly" on the grounds of the Cabinet Office, Premier David Burt confirmed that "he and the Cabinet will break from their scheduled meeting to greet those assembled."
Last night, the Premier said: "The organisers wrote to me last week indicating their intention to assemble peacefully in the grounds of the Cabinet Office and to ask if I would be available to receive documentation from them at 11:30 am.
"Peaceful protest and assembly is the cornerstone of a free society, and I respect the rights of those who intend to be there tomorrow as part of this peaceful gathering. The organisers have asked that the government consider their submissions, and I can assure them that we will do so."
We will provide live video and updates as able, and to forewarn in advance, we understand there may be speakers and if a crowd shows up, live streaming people speaking in the middle of a crowd often results in less than ideal audio, so apologies in advance if this is the case!
Your screen will automatically refresh with the latest updates:
Read More About