[Written by Stephen Wright]
Boxer Tyler Christopher says he will dedicate his second professional fight to the memory of former Dandy Town footballer Jahtino Richardson-Martin.
A close friend of Christopher, Richardson-Martin recently died in a road collision on North Shore Road.
Christopher, who returns to the ring on November 27 in a four-round welterweight bout at Villa Park, the home of Premier League side Aston Villa, said Richardson-Martin, 23, had been an avid supporter of his boxing career.
"I'll be dedicating this fight to my good friend Jahtino Richardson-Martin," said Christopher, who is a passionate Dandy Town fan.
"He got in touch with me before my last fight and asked for the link [to the live stream] so he could watch it. He was a big supporter of mine.
"We both grew up on Mount Hill [in Pembroke], and I used to go to the Dandy Town training sessions to cheer them on. On game day, I'd be there recording goals [on my phone]. He's a big loss to the Hornets family.
"I was devastated when I heard the news. I never thought that Jahtino would die in a bike accident. Everyone needs to slow down on the roads and take their time."
Christopher impressed on his pro debut last month, winning a points decision over Josh Hodgins, knocking his opponent through the ropes in the final round of their contest at the H Suites in Edgbaston, Birmingham.
The 25-year-old will look to further enhance his burgeoning reputation when he fights at the Holte Suite at Villa Park – one of the most prestigious boxing venues in Birmingham – and believes his growing popularity explains his increase in ticket sales.
"Winning my pro debut was a good confidence booster and has fuelled me for my next fight," said Christopher, who won nine of his 12 amateur outings.
"My coach [Anthony Hull] believes I've got even better since my last fight.
"I've sold twice as many tickets as I did last time when I had to put my name out there. People have now seen what I can do, and see my potential, and are gravitating towards me, so I don't have to go out and push tickets."
Although Christopher admits he struggled to curb his nerves in the build-up to his debut, with his coach Hull helping him overcome his insecurities, the southpaw insists he will have no problem rising to the occasion at the 700-seater Holte Suite.
"I always have pre-fight jitters, especially as it was my pro debut, but I worked through them and stuck to the game plan," said the Birmingham-based boxer, whose opponent is yet to be decided.
"I didn't let the occasion get to me and just sucked it all in and put in a good performance.
"I feel like I deserve to be here and have the talent to belong on that stage. It will be nice if I can have an even better experience on my first fight at Villa than I had at the H Suites."
Hull, the director and head coach at DNA Boxing School of Excellence in Stirchley, said Christopher's eye-popping debut exceeded expectations; however, he admits he was concerned by a lapse of concentration late on.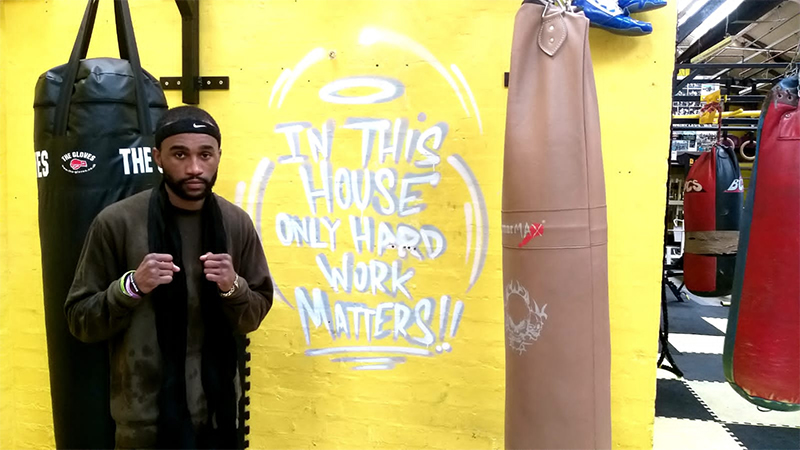 "A lot of people couldn't believe it was his pro debut," said Hull, who had more than 140 bouts as a boxer and mixed martial artist. "They were like, 'That's his first pro fight?'
"Everyone was amazed; he gained a lot of fans from how he boxed and how he is with people.
"There were a couple of times he got ahead of himself, and I had to give him a little telling off in the corner. Not that he had done anything bad, but I could tell he needed to keep switched on.
"When he knocked the guy out of the ring, it seemed as though he froze, and his mind went a bit blank. I call that admiring your work. He needlessly got caught a few times."
Aside from refining Christopher's technique, particularly in generating more power by "sitting down on his punches", Hull has adopted the role of mentor, motivator, psychologist and friend as he looks to strengthen the bond with his fighter.
"We had a bit of an argument in the week leading up to the fight," Hull added. "He started overthinking everything, saying, 'Josh is a Birmingham lad, I'm not from Birmingham. They're setting me up.'
"It annoyed me and I had to tell him, 'It's your job to box; my job is to train. I've got a good reputation in the game and you have to trust me. If you don't trust me, I can't work with you'.
"I told him as long as he listens to what I say and follow my training programme, and stays disciplined then he won't have a problem.
"I know he seems to be a loud character on Instagram, but he can be very closed off. I've had to get him talking to more people in the gym and get him networking. It's all part of the game."

Read More About