[Written by Dale Butler]
On Friday, 18th February, 2022 the local band Working Title added to the dining experience at the Fairmont Hamilton Princess Hotel & Beach Club at 76 Pitts Bay Road in Pembroke. For a comprehensive insight into The Pink Palace, I suggest you visit their website. The numerous changes that have taken place inside and out are exceptional.
A night out really starts from the minute you arrive at the hotel, and it is obvious that the owners have set a standard of high performance from the well-organized car park, friendly taxi drivers to the knowledgeable bellmen who attend to you as if it were their home. With a spa, marina, variety of restaurants and shops, and a facility filled with art, the only thing missing is Mr. Personality, the late bellman, Wesley "Lee" E.W. Dill, Jr., who passed away in October 2021.
He was a giant of a man who cemented himself at the entrance of the The Pink Palace. I have no doubt he is missed by his co-workers and many guests. Because of this, I dedicate this review to him and the new enthusiastic and professional staff at the hotel.
To begin with, the hotel's reservations system of technology and human contact prepared me for a perfect night out. Warmly greeted at the Crown & Anchor Restaurant by hostess Morgan Swan, I felt like I was with family: bellmen, hostess and then my waiter, Yogis Widargo, who was delighted to learn that I had visited Indonesia.
And not to end this journey, young exuberant Sous Chef, Richard Zuill, presented himself and his description of the meal which I had ordered from the Restaurant Week menu, made me feel as if he were my personal chef. The meal was absolutely heavenly. I'll leave it at that because Mikaela Ian Pearman recently wrote and published an excellent comprehensive review for Bernews.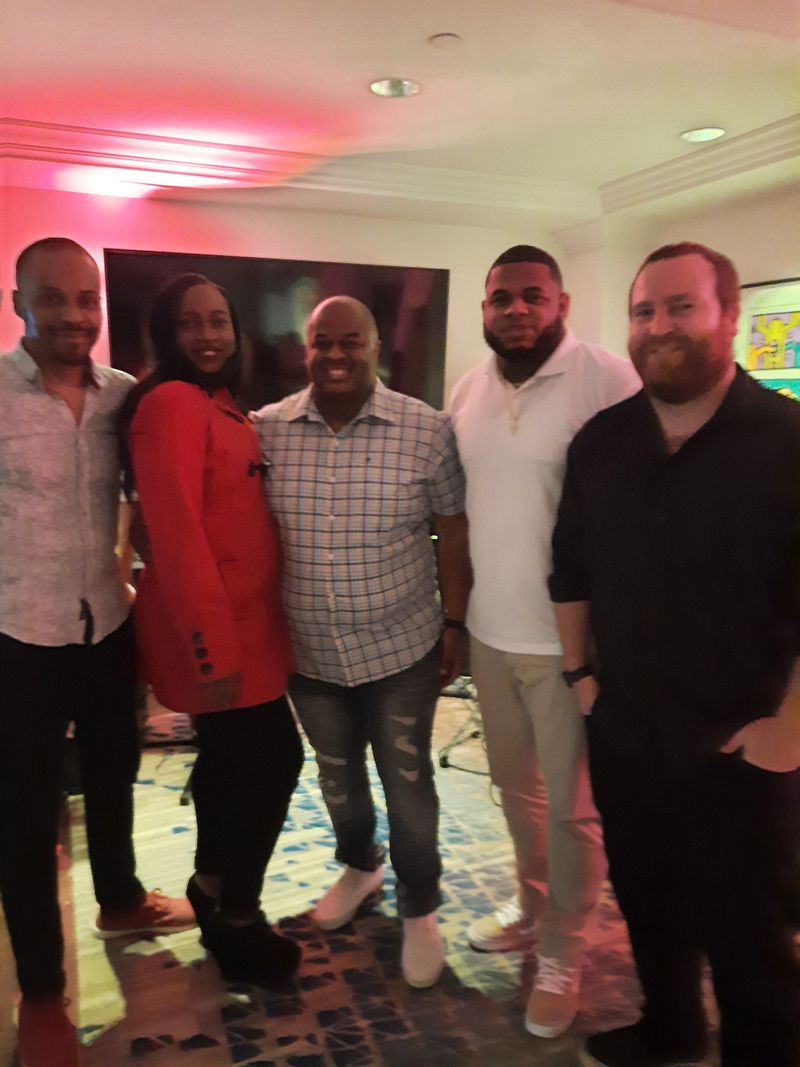 Bermuda has had a history of outstanding night venues. Regrettably, the past decade has seen them close, but thanks to the hotel they have placed a priority on local entertainment and our hope is that others will understand its importance to the dining experience.
"Working Title" led by singer/showman, Lamont Robinson, continues to give a first-class show with:
Dave Pitman – guitar, piano and saxophone
Ryan Durrant – keyboards
Jordan Lambe – percussions
Natasha Hayward – who was filling in for Sarafina Durrant – led the way with Lamont on many of the songs.
The band did a splendid job with songs like Havana and Ain't No Sunshine," for example. The performance was seamless, using songs from a variety of genres and, while there is no floor show that the hotel was known for, they held my attention. The musicians are talented and they know their material well which is great for the two singers, Lamont and Natasha.
I salute the owners of the hotel, managers and staff for working diligently to alleviate the deficit we currently feel with regards to Bermuda's lack of hotels and entertainers. Their complete package from the car park, bellmen, hostesses, waiters, chefs, décor and entertainment were first-class, and enjoyed by a full house who looked equally impressed.
A considerable number of Bermudians helped to create that warm, happy family atmosphere over the years and I have no doubt that Wesley, with that broad grin and twinkle in his eyes, is smiling on us from Heaven.
- Dale Butler is the author of "Music on the Rock" and the Professor of local music since 1976.

Read More About
Category: All, Entertainment, Music