The Government "is proud to continue to sponsor this important initiative" and will commit $25,000 "to support the outstanding work of Future Leaders and the development of young Bermudians," Premier David Burt said.
Premier Burt stated, "The Government of Bermuda, through the Cabinet Office, is proud to continue to sponsor this important initiative as we have done each year since its commencement and will again commit $25,000 from the Cabinet Office budget to support the outstanding work of Future Leaders and the development of young Bermudians. This support will ensure that students can participate in the summer programme and gain vital experience and knowledge without being concerned about its cost.
"Through seminars, community service, and field experience, students will explore the meaning of leadership, develop their leadership skills, and examine the social challenges facing Bermuda today, guided by mentors and community leaders. I commend these young women and men for their commitment to leadership, their commitment to personal development and their commitment to community service.
"I would also like to commend the Future Leaders team for their steadfast devotion to the young people of our country and for empowering them to be the leaders of tomorrow. The fact that this is now the fifth year of the summer programme is a testament to the hard work and dedication of the Future Leader's organisation.
"It is especially pleasing to see members of past cohorts such as Mr Seon Tatem grow from participating in the youth programme to leading it as Youth Directors. This is evidence that the Future Leaders Programme is doing what it has set out to do, empower students to become the next generation of leaders."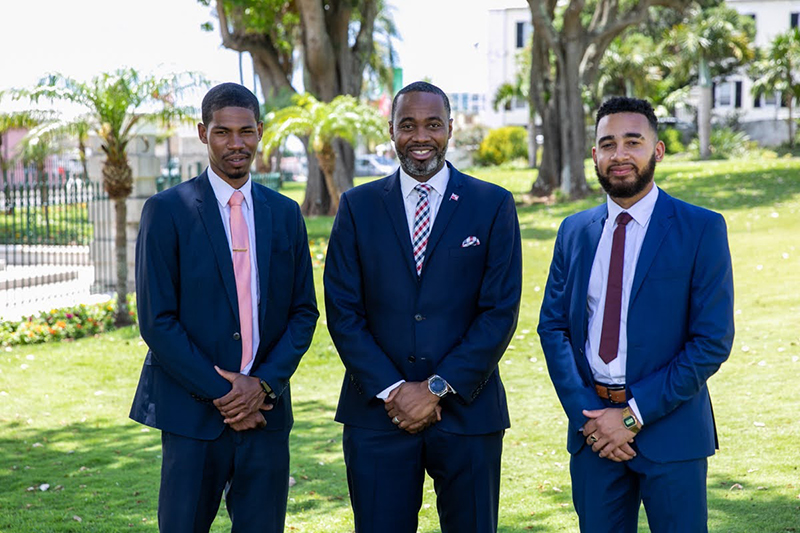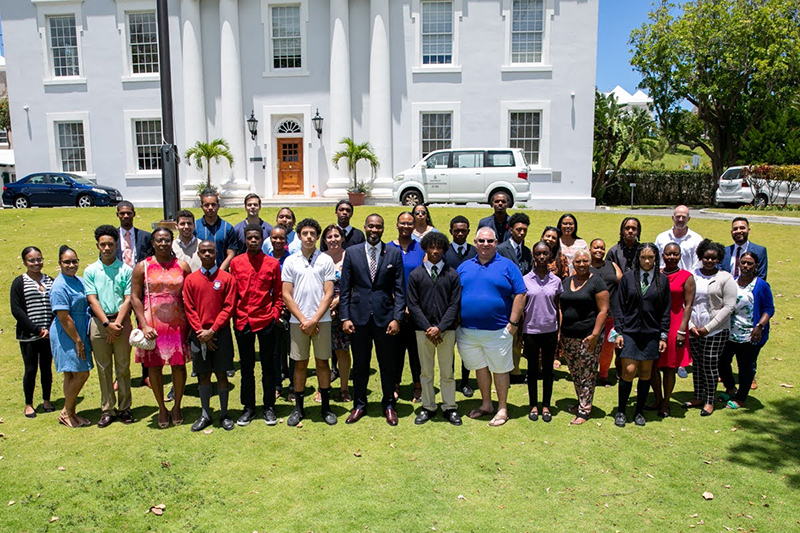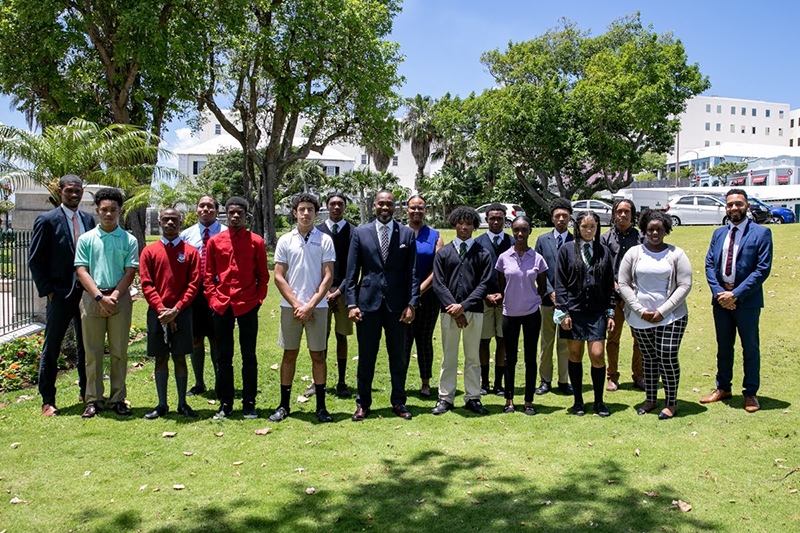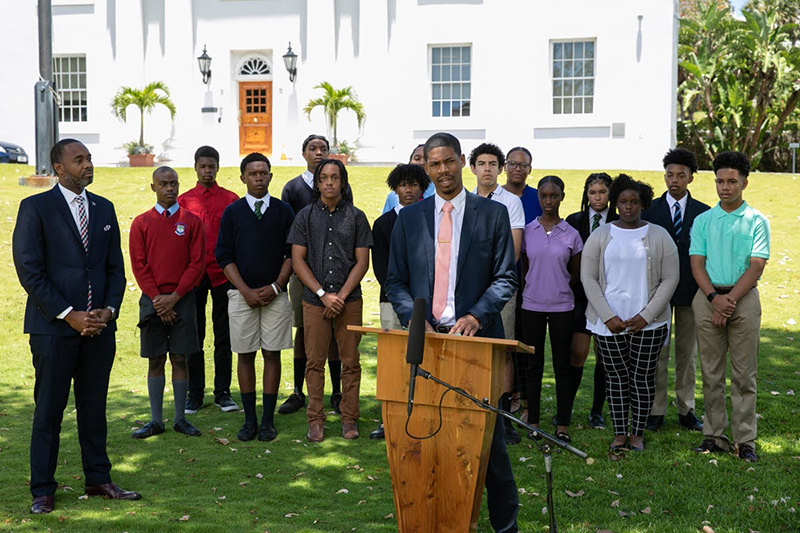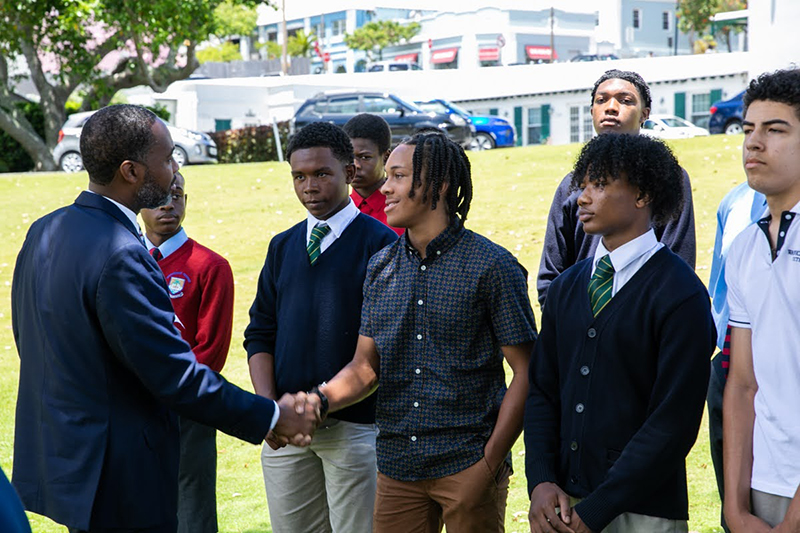 Youth Director Mr. Seon Tatem's remarks follows below:
Good Afternoon The Hon E. David Burt JP, MP; Jeff Sangster HSCM Bermuda; parents, students and members of the media.

My name is Seon Tatem, and after completing the Future Leaders Programme as a student in its first year in 2017, I am honored to be able to return for a second year under the mentorship of Ryan Robinson Perinchief as Youth Director of this year's Programme. I am honored today to introduce this year's participants for the 2022 Future Leaders Summer Induction Programme, which incorporates three weeks of hands-on education, academic study and meaningful service to the community in order to empower the next generation of leaders.

From grasping complex subjects such as racism and wealth inequality, to discovering new models of leadership and social enterprise, by completion, these Future Leaders will accumulate 90 hours of community service and co-curricular activity. However, as the summer programme draws to a close, the work of a Future Leader has only just begun. This is evidenced by the many achievements and reflections of the students that have come through the programme.

We are grateful to the Government of Bermuda Cabinet Office for their partnership with us to deliver our summer programme. Because of this, no student has ever been turned away from participating due to a lack of finances, and as a past student, I can attest to that. We are deeply appreciative for your continuous support from the very beginning five years ago – and to Premier Burt, thank you for taking the time out each year to meet with our students and share words of encouragement. Thank you for your continued investment in the future of Bermuda.

Beyond our summer programme, it would be remiss of me not to mention our wider organisation – Future Leaders Bermuda – which as registered charity no. 1009 has been fortunate enough to receive the support of HSCM Bermuda, our platinum corporate sponsor from last year who have made a further commitment of sponsorship for another two years. This partnership extends our reach beyond this summer programme, and provides further opportunities in the corporate sector, based on an identified need for more Black Bermudians in executive leadership roles. Last year, Future Leaders were connected to both internships and work shadowing opportunities at HSCM Bermuda's local office, in addition to our 'Back to School' Community Give-Back and Vendors Market held in August 2021. We look forward to continued initiatives with the support of both HSCM Bermuda, and the Government of Bermuda, in addition to our other community partners and sponsors to whom we are extremely grateful.

Each year, our programme sets a theme and highlights an inspirational leader with a quote for the summer. Our last programme theme was "Each generation must fight for its own freedom. Freedom is not free." – inspired by the late Bermudian activist, writer, union leader and educator, Dr. Eva Hodgson.

I would like to believe that one of the principles required in the survival of a people, is that we must share with one another. Share our resources, our support, our knowledge, and our time. Moving as a unit will allow us all to remember how truly powerful we are as a nation when we walk as one. The challenges our people are facing are evident, thus, it is imperative that we take the necessary strides to learn the roles we play in society, so we can better understand how to walk as one.

It is therefore befitting that this year's theme centers around the late Bermudian activist, civil rights leader, political activist, nation-builder, campaigner for universal adult suffrage, former parliamentarian and worker with the United Nations, none other than Dr. Dr Pauulu Roosevelt Osiris Nelson Brown Kamarakafego. Dr. Pauulu Kamarakafego once said: "Whatever knowledge I acquire does not belong to me." To the 2022 Future Leaders, the things that you are learning, you must share with others, you are not learning for yourselves alone. You have no idea how far you will go, simply by sharing your knowledge and innovative ideas with our people. What comes from climbing this ladder we call life when we fail to reach behind and bring others with us? What comes from forgetting where we come from when we reach the mountain peak of success. Through humility, selflessness and conscious leadership, as you all continue to elevate in pursuit of your heart's deepest desires, I challenge you pave the way so others can follow, just as our beloved Dr. Pauulu Kamarakafego has done, may his name never be forgotten.

We must know where we come from, what opportunities we have been afforded with, and the duty we all have. My mother always tells me, 'to whom much is given, much is required'. To simply succeed for oneself is not true success…I echo the words of Dr. Martin Luther King Jr. who once said that "life's most persistent and urgent question is: what are you doing for others." With that ideology in mind, it is my hope, it is my prayer, that as you all grow into the fine leaders our nation needs you to become, you will ask yourselves, 'what am I doing for others?'

Our community needs us, our people need us. Let us not repeat the vicious cycle of climbing the ladder of success only to forget about the individuals who are stuck, those with a lack of opportunity, those with a lack of vision. Your worth as young people is truly invaluable, never, and I echo never forget. Continue to believe in yourself entirely, loving every inch of your being from the souls of your feet, to the top of your head. We do not need any of you to be perfect, what we do need, is for you to be your authentic selves. Through the next three weeks of intense studies and in-depth reflections of both society and our inner selves, our Future Leaders will be better equipped with the knowledge to fight for a better world for this, and future generations.

Over the course of the three weeks, our students will focus on 7 main units:
1. Service and Community Building
2. Poverty, Crime, and Inequality
3. Identity and Privilege
4. Leadership and Self-Determination
5. Social Justice and Entrepreneurship
6. The Power to Make a Difference and
7. How to Take Action

By the end of the three-week programme, students will be in a better position to identify inequality and injustice in the world and their community, as well as empathise with the experiences of persons from various backgrounds. They will apply leadership, teambuilding and analytical skills that will empower them to question their roles as citizens and leaders, and consider the power they hold – both as individuals and as a collective.

All local schools were invited to nominate at least one student to attend, with registration also open to the public. Based on the responses, we take this time to applaud the commitment of the 16 students who will be participating in this year's programme:

From the Berkeley Institute, we have:
1. Zae'ya Tucker-Crockwell
2. Zariah Chambers
3. Jahzi Butterfield
4. Quasy Jennings
5. Lia Smith
6. Jayden Belboda Raveneau
7. Brini Santucci

From Cedarbridge Academy, we have:
8. Zaeden Stewart
9. Jah'Shon Jeffers
10. Tiko Caines

Bermuda High School is represented by:
11. Sophie Jones

From Warwick Academy, we have:
12. Etienne Wolffe
13. Norre Robinson
14. Diego Kaleb Brown

Bermuda Institute is represented by:
15. Sanai Roberts Adderley, and

Dellwood Middle School is represented by:
16. Tenisen Dill.

To our Future Leaders, as you prepare to embark on this journey over the next exciting three weeks, I can say from personal experience that this is a rewarding programme with a supportive and empowering community. Although you will encounter countless ups and downs, at the end of the programme you will be glad you persevered and will have a lifelong group of friends, and some would even say a new family, to help you along life's journey. As I have mentioned before, being a past student, I can genuinely tell you that I have gained deep friendships and connections from this programme, many of which I consider to be brothers and sisters. So congratulations in advance and we look forward to seeing the results of all your hard work at our closing ceremony.

In closing, we are truly appreciative for the overflow of support we have received from both the community and our sponsors.

Again, we'd like to say thank you to the Government of Bermuda Cabinet Office for sponsoring this year's Future Leaders Programme, and to HSCM Bermuda as our organisation's platinum sponsor and corporate partner. We have also been able to deliver our summer programme over the past few years with the support of our various community partners such as the Bermuda Industrial Union, Midland Heights Seventh Day Adventist Church, Aries Sports Center, the Salvation Army, the Department of the Judiciary, Agra Living Institute, Citizens Uprooting Racism in Bermuda and the United States Consulate.

If you would like to keep updated on the Future Leaders Programme, and the work of our students, we invite all members of the public to follow their progress via social media: On Instagram and Facebook at Futureleadersbda, or by visiting our website at www.futureleaders.bm.
Read More About