With an aim to improve their response to domestic violence, the police have launched an online survey and are encouraging the public to take part.
Commissioner of Police Darrin Simons said, "Domestic abuse is a serious issue. The Bermuda Police Service is committed to improving our response to and how we treat the issue within in our community. Along with several of our community partners, including; The Center Against Abuse and the Department of Child and Family Services, are seeking input and active participation from you. This is your opportunity to help shape where we focus our efforts and how we deliver our services to better meet your needs.
"We are starting with an anonymous survey in order to better understand the problem. The data gleaned from the survey, will guide us in how we address the subject of domestic violence and more importantly how we look after victims and help reform those responsible for committing these acts. The importance of your views cannot be understated.
"The survey will go live today and run through to Wednesday 31st August 2022. It will take the form of a number of multiple-choice questions gauging the performance of first responders such as the Bermuda Police Service, as well as our partner agencies who provide the necessary aftercare and rehabilitation where needed.
"Through the survey, we want to understand from residents:
1. Their understanding of domestic abuse
2. Their awareness of domestic abuse support within the local area
3. Their awareness of perpetrator support within the local area
4. Their preferred support/services if they or/and their family/friends experienced domestic abuse
5. Barriers to seeking support for domestic abuse
"This anonymous survey is being managed by "SafeLives", a UK-based charity dedicated to ending domestic abuse for everyone.
"Help is available.
"In an emergency, always call the police 911 [emergency] 211 [non-emergency].
"If you have experienced domestic abuse, there is help available; Centre Against Abuse [CAA] provides crisis support services to male and female adult victims [18-65] of domestic abuse and sexual assault; 292-4366 [Monday to Friday 9:30 - 5:00PM] and 441 297 8278 [24/7 Crisis Hotline].
"Ageing and Disability Services [ADS] assists male and female adult victims over the age of 65. ADS can be reached Monday to Friday 9:00 to 5:00PM on 292-7802.
"The Department of Child and Family [DCFS] supports children under the age of 18 and can be contacted on 296-7575."
Screenshot from the survey page, which you can access here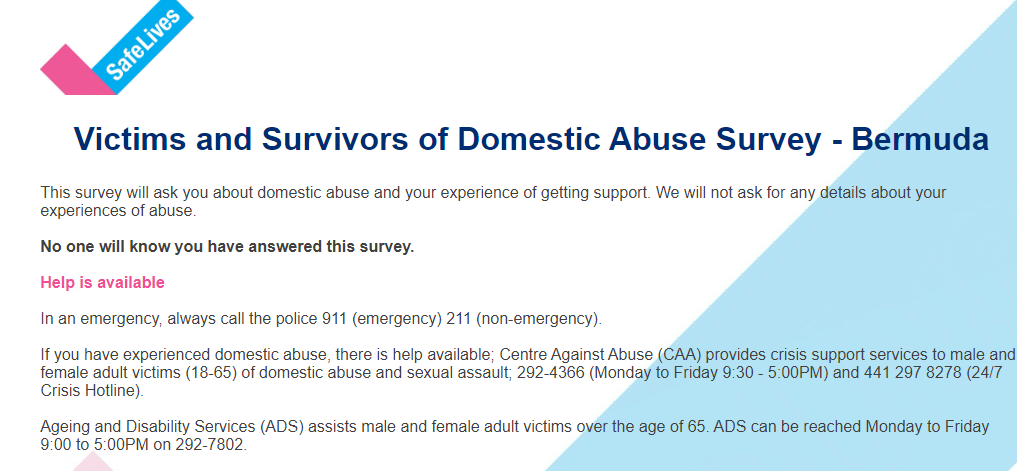 Read More About