The Bermuda Tourism Authority [BTA] announced the promotion of three staff members – Jakai Franks, Tashae Thompson, and Duncan Beveridge – within its Experience, Operations and Finance teams.
A spokesperson said, "Tashae Thompson has been promoted to VP of Experience. In this role, she will be responsible for leading the organization's efforts to increase visitor spending and overall satisfaction, while also developing and executing experiences that align with the National Tourism Plan.
"With over 15 years of experience in the tourism industry, Thompson understands the innovation required to close the gaps in visitor experiences year-round. She has had a hand in elevating Bermuda's historical and cultural assets integrating them into new visitor experiences.
"For Bermuda Restaurant Weeks, a staple on the BTA calendar, Ms. Thompson repurposed existing cultural sites to create memorable experiences connecting visitors and residents. Likewise, she led the development and execution of the inaugural St. George's Seafood and Swizzle Festivals this year to connect Bermuda's visitors with local, authentic experiences while creating business opportunities for tourism entrepreneurs, and attractions."
Ms Thompson stated, "I have always believed in either finding a way or making one. I know I am on a purposeful path and look forward to continuing to be of service to my country."
Jakai Franks, VP of Operations; Tashae Thompson, VP of Experiences; Duncan Beveridge, VP of Finance.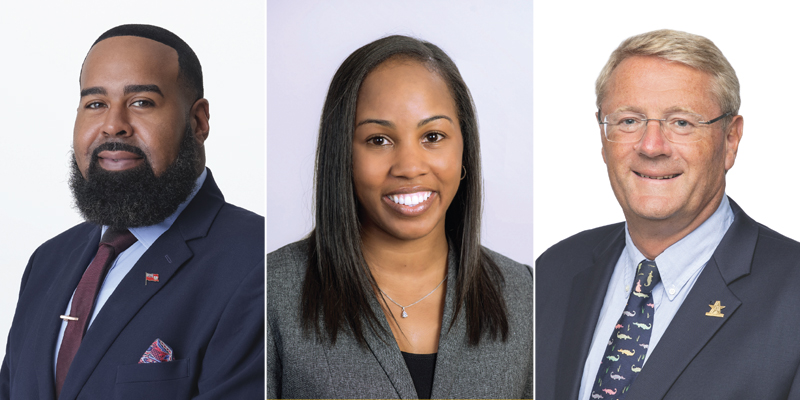 The spokesperson said, "Joining Tashae Thompson is Jakai Franks who now has the title of VP of Operations. Franks was appointed as the Operations Manager of the Bermuda Visitor Services Centres in December 2018.
"Since then, he has worked on numerous projects that have positively impacted Bermuda tourism, such as: launching the 'Purchase for a Purpose' campaign to help restaurant workers who were affected by the pandemic. Additionally, Franks had a hand in creating and launching an e-commerce platform for the visitor centres. In his new role, he will oversee all the operations and admin of the BTA, including HR and IT."
Mr Franks said, "I'm delighted to be chosen as the VP of Operations for the BTA. I plan to bring innovation, and my years of managerial experience to the Authority to help our employees and stakeholders better position Bermuda as the pristine destination we know it to be."
The spokesperson said, "Included in the series of BTA executive promotions is Duncan Beveridge. Joining the organisation in 2014 as Finance Director, Duncan will now serve as VP of Finance. Coming to the organisation with over two decades of finance experience within the hospitality industry, he is no stranger to the world of tourism. Throughout his eight-year tenure at the BTA, Duncan has dealt with all financial matters while maintaining the organisation's fiscal integrity and ensuring adherence to statutory compliance requirements."
"Working for the BTA over the course of eight years has been rewarding, and a career highlight. I proudly accept this new post of VP of Finance with pride and look forward to continuing to assist the authority as we blaze forward," said Mr Beveridge.
"Organisationally, we continue to look for ways to optimize our teams and processes to align with the landscape of our evolving industry," said Tracy Berkeley, Interim CEO of the BTA. Berkeley continued, "I am extremely proud of Tashae, Jakai, and Duncan and look forward to working alongside them as we continue to move Bermuda forward."

Read More About