The island's newest resident is in "critical but stable" condition however the "good news is he started eating now a little bit and that's a positive sign," the Principal Curator of the Bermuda Aquarium, Museum and Zoo [BAMZ] said following the rescue of the seal this weekend.
After first being spotted by Ruby Dill during her morning exercise, the young male grey seal — estimated to be under a year old — was rescued from a beach, and is now receiving treatment from the experts at BAMZ.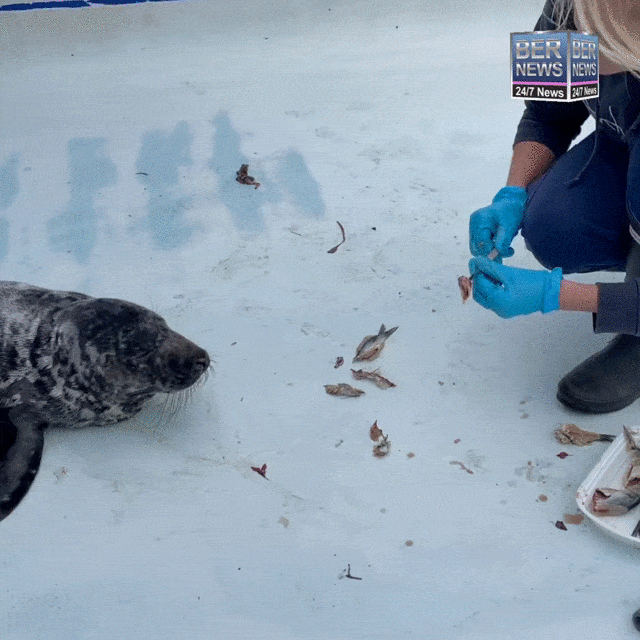 Speaking with Bernews today, BAMZ Principal Curator Dr Ian Walker and Aquarium and Curator Patrick Talbot recalled how the seal was brought in.
Dr. Walker said, "I got the first call on Saturday morning around 10 o'clock, and my first call was to Patrick because we had an event going on in the aquarium and we also needed as much manpower as possible."
Mr. Talbot said, "We wanted to determine whether it was actually a seal. So I went down there, checked the beaches, see if we could find it, and we could not locate it at that time, but we did see a confirmation from a video that there was a seal spotted early on that beach. So we knew that it was around."
The BAMZ team returned to the beach and were able to bring the seal back in order to help him, and noted that he was "pretty tired after a long journey" and is now in one of their quarantine areas.
As to the expected duration of the seal in BAMZ's care, Dr Walker told Bernews, "It really depends on how well he does."
Noting the seal is in "critical but stable condition" at the moment, Dr Walker explained that he has "had a lot of stress, likely has an infection, which we're treating right now, and it's anyone's guess how well he's going to do in the coming days."
"It's not uncommon for these animals to come in, do well for a day or two, and then have a bit of a crash based on all the stress leaving their body, so to speak. So we are monitoring him closely," he added.
"The good news is he started eating now a little bit and that's a positive sign. He's very alert, has been aggressive towards us, which is also a wonderful sign."
Dr. Walker added, "I think it's just important to note that it's interesting that over the last 20 odd years we've had five or six seals come in. So something has changed in our ecosystem that's bringing these animals to Bermuda.
"We're not entirely sure why yet, but certainly these animals are getting caught up in the Gulf Stream," he added. "And the lucky ones I guess are hitting Bermuda and getting into our care."
"So our hope is that we can rehabilitate them. And the plan is, at that point, if that does happen, get them back to the States."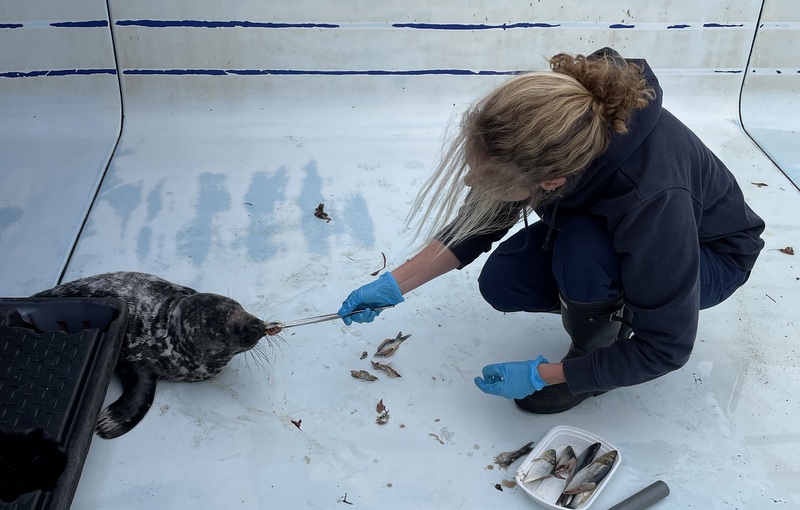 The last time a seal was found in Bermuda was in 2019, with the seal — eventually named Lou-Seal — spending a month in Bermuda recuperating, leaving via a charter flight to USA, and spending six more weeks in care before being released back into the ocean.

Read More About
Category: All, Environment, News, Videos