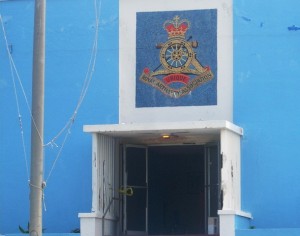 The police have arrested two suspects in connection with the shooting incident this morning at the RAA Club in St Georges, that left an 18 year old man in hospital with serious injuries.
A 19 year old man stabbed in the same incident is also in hospital.
The suspects have not been named, nor any details released, as the Police say "they become targets". The police have said "they expect more arrests to be made" in this case.
The police held a press conference this afternoon [Apr 4] and brought out all the brass, with Minister of Public Safety Senator David Burch, Acting Commissioner of Police Michael Jackman, Superintendent Antoine Daniels and Acting Governor David Arkley in attendance.
The police stated that at approximately 3:05am this morning, the victim was shot  following an argument and fight in which 6 or 7 people were involved.
The 18 year old victim was shot in the upper body. He is presently in King Edward Hospital, with what are described as serious, but not life threatening injuries.
Police also announced that today an arrest has been made in the shooting murder of Kimwandae Walker at a Good Friday kite flying event on April 2. Arrests were swiftly made after the last two shootings in March, with the suspects released on bail after approximately four days in both circumstances. The two suspects in the March 27 Jakai Harford shooting, 18 and 23 year old Pembroke residents, were arrested then released on police bail a few days later – as was the suspect in the James Lawes murder.
Bermuda has seen a substantial raise in the amount of gun violence, with in excess of 40 reported events for the year.
Previous Gun Incidents in April Include:
Kimwandae Walker was murdered, in front of children, at a family fun day on April 2 [link]
Gun incidents in March 2010 include:
Gun Incidents for February include:
A 24-year-old Sandys man was shot in the right hand in the Scotts Hill, Somerset area on Wed, Feb 3
Feb 13 Nathan Darrell, 23, was non fatally shot three times in Sandys. Quincy Brangman, 31, has been charged
A 28 year old Pembroke man shot in St. Monica's Road, Feb 21
Gun Incidents for January include:
Perry Puckerin shot and killed in Hamilton Parish on Sun, Jan 3
A man was shot in the leg in the St. John's Road Pembroke area on Sun, Jan 10
The Police contact details are below:
Contact the Serious Crime Unit on 299-8115
Contact the independent 24 hour confidential Crime Stoppers Bermuda hotline on 800-8477.
Send an anonymous tip via the Crime Stoppers Bermuda website crimestoppers.bm
Read More About