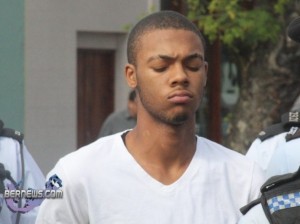 [Updated] This morning [Mar.10] in Supreme Court Justice Greaves summed up the Marico Bassett shooting case. After directing the jury, Justice Greaves said that a key issue in this trial was the matter of identification. He said that the jury must ask the question: "Has the complainant identified the defendant?"
He said that the jury must satisfy itself that the Crown has clearly identified Marico Bassett, 20, as the person who was the person who shot Randy Lightbourne. He cautioned the jury that they must consider all the evidence that they had heard in Court before they reach their verdict.
In his summing up, Justice Greaves reviewed the three charges. Count One was a charge of attempted murder. Count Two was a charge of using a firearm to commit an indictabke offence. Count Three was a charge of unlawfully possessing ammunition.
Justice Greaves pointed out that a guilty verdict on Count One must also result in a guilty verdict on Count Two as these two were inextricably linked. He said that Count three was separate and that Jurors might find a not guilty or guilty verdict and that this had no direct bearing on Counts One and Two as the act of unlawful possession might not – in law and in this case – be directly connected to Counts One and Two.
The case will be put in the jury's hands this afternoon. The ten woman two man jury will continue deliberating until a verdict is reached.
Randy Lightbourne, 45, previously told the jury that he had recognised Mr. Bassett when the alleged gunman rode a motorcyle into the parking lot of Somerset's Charing Cross Tavern at approximately 5pm on July 23, 2010 and began shooting at him.
Mr. Lightbourne, who was shot 7 times, spent months recovering from wounds to his arm, abdomen and buttocks. Mr. Bassett, 20, was taken into custody soon after the shooting and charged with attempting to murder Mr. Lightbourne in July 2010, only days after the shooting. During the trial, the jury heard that the gun used was linked to multiple West End shootings — including last month's murder of Colford Ferguson,
During the trial, Crown counsel Carrington Mahoney said the defendant allegedly shot Mr Lightbourne to "move up the ranks" of a west end gang he was said to be a member of.
Update 4:57pm: The jury came back at around 4:40pm, and had not reached a verdict on any of the three counts. They were sent back to deliberate.
Update 6:05pm: The jury is still deliberating.
Update 6:45pm: Jury has come back, with no verdict on two counts. Mr Bassett was found guilty on one charge, but will be retried on the attempted murder charge. Details here.
Read More About
Category: All, Court Reports, Crime, News