[Updated] This morning [July 20] the Police have located yet another large quantity of cannabis plants, this time in the west end.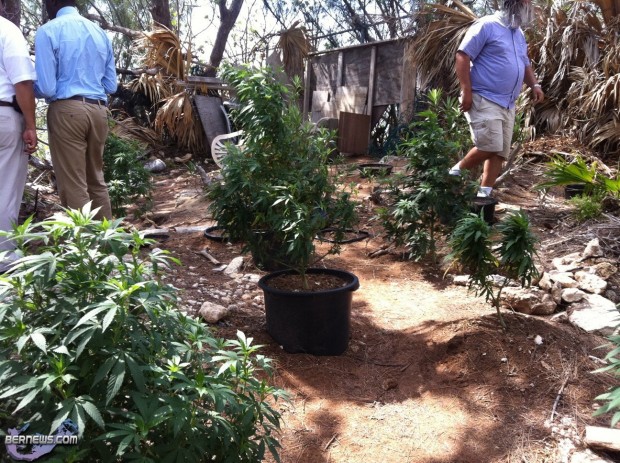 This is the fourth seizure of cannabis plants in the past few weeks, following after a seizure on July 14 in Tudor Hill, Southampton, July 4 in Smith's Hill Drive, St. David's and June 27 in an undisclosed area in St. David's.
The plants were located in the Kitchener Close, Sandys parish area. Multiple Police officers are in the area and can be seen searching a wooded area. Details are limited at this time, however we will have updates and additional footage as able.
Update 11:15: There appears to be over 100 plants in pots and in the ground. A water supply system, plant food bags and chairs can also be seen.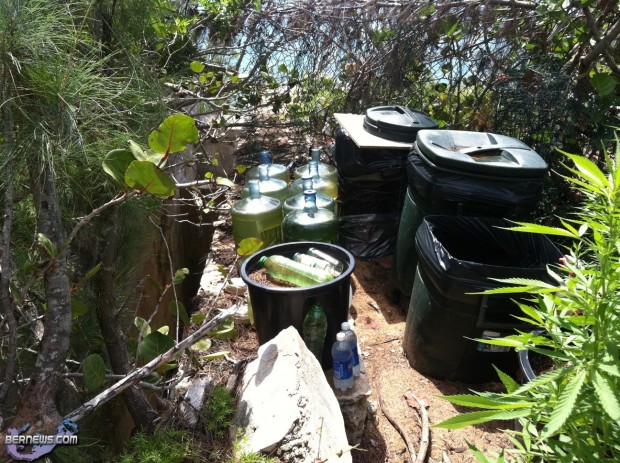 Update 11:20: Police confirm there are approximately 115 plants.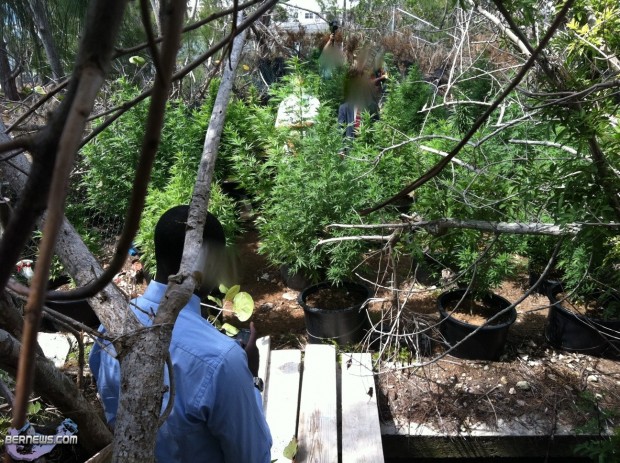 Update 11:30: This plant looks to be over 7 feet tall: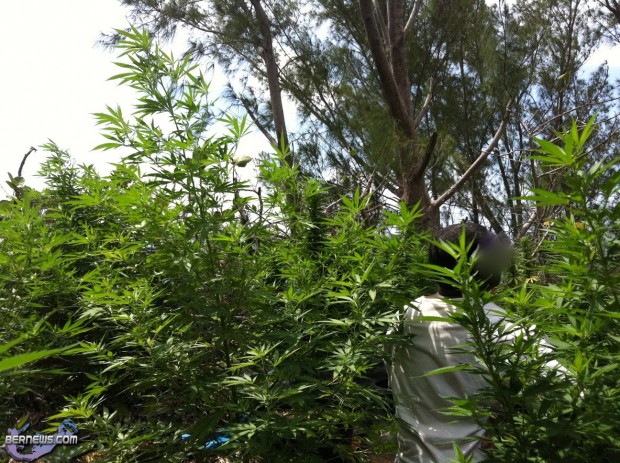 Update 12:17pm: The plants were spread throughout a stretch of land, with at least three different patches. They showed differing stages of growth ranging from what appeared to be approximately 7 foot tall plants to plants only a couple of inches high.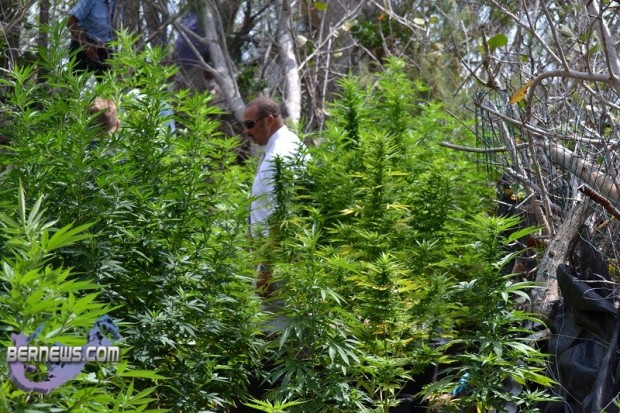 Water systems including piping, broken egg shells, and plant food packages could be seen spread throughout. The patch containing the largest trees was blocked off by a makeshift wooden barrier, which the police removed.
Photos below, click to enlarge:
Update 12:37pm: Official police statement, saying that the plants "looked well cared for."
After receiving specific information, police attended the Kitchener Close, Sandys parish area this morning (Wednesday, July 20th) and seized a quantity of what are believed to be cannabis plants.

The plants were in various stages of growth and looked well cared for. Detectives are appealing for anyone who may have observed any suspicious individuals or activity in the Kitchener Close, Sandys parish area to contact the main police number 295-0011.

This is yet another example of the community working together with the police to eradicate illegal drugs from their neighbourhoods. Anyone with information on any other illegal drug activity is encouraged to contact police or the independent, confidential Crime Stoppers Bermuda hotline on 800-8477.
Update 12:30pm: Videos showing the plants as well as a statement from the Police:
Video #2:
Read More About