At approximately 4:30pm this afternoon [Sept.15] a tree crashed into the roof of a beauty salon in the Tiger Bay, St George's area.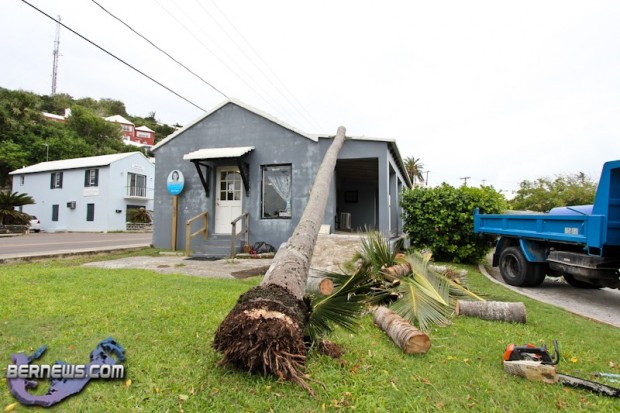 Cheveux nail technician Shakirah Brangman was inside the building when the tree fell. She described hearing a loud crashing sound that sounded like lightening had struck the building. She went outside to check and found the tree resting against the roof outside the business door. She said there was no visible damage to the inside of the building.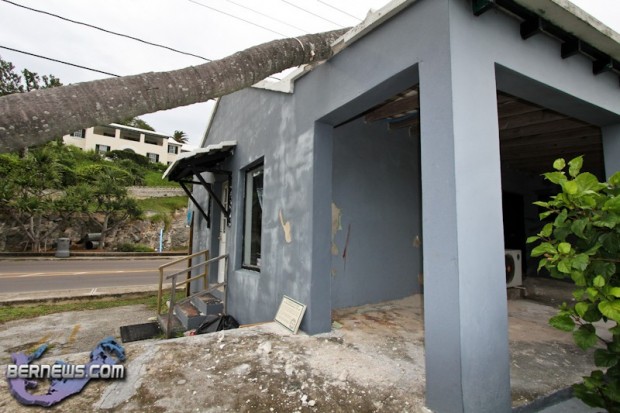 Corporation of St. George employee Theodore Davis worked to cut down the fallen tree this afternoon; he was in a nearby building when he heard the sound of a crash. He came outside to investigate and found the tree resting on the roof of the nearby building.
The tree falling was presumably caused by the increased winds from the passing of Tropical Storm Maria this afternoon. Maria's closest point of approach was at approximately 1pm today, when it was 101 nautical miles to the west north-west with maximum sustained winds of 65mph. After passing its closest point to Bermuda, Maria was upgraded to a Category 1 hurricane.
Click to enlarge photos:
Read More About
Category: All, Most Popular, News, News, Photos