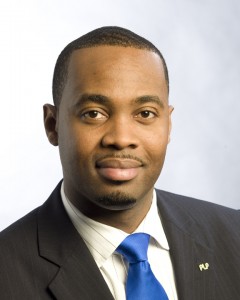 Senator David Burt will be honoured by the George Washington University Black Alumni Association [GWBAA] during their IMPACT Awards on Saturday, September 17.
The GWBAA IMPACT Award is given to "black alumni who have demonstrated a history of commitment to the George Washington University and/or whose contribution and influence has made a significant impact on the community in the areas of research studies or publications, community service, entrepreneurship, academic/scholarship achievement, leadership, education or arts."
The other two recipients will be McClain Elizabeth Bryant, an associate with the Husch Blackwell law firm in Kansas City, and Omar Woodard, former GW presidential administrative fellow and principal at Venture Philanthropy Partners.
Senator Burt, 32, received his Bachelor of Business Administration with a double major in Finance and Information Systems in 2001 from George Washington University. He was awarded The George Washington University Presidential Administrative Fellowship and received his Master of Science in Information Systems Development in 2003.
Read More About
Category: All