[Updated with video] The world's largest super yacht  – which is estimated to be worth over a billion dollars — arrived in Bermuda this morning [Jan 29] and is presently docked in St George's. The 'Eclipse' is owned by Russian billionaire Roman Abramovich and features a staggering array of luxurious on-board amenities.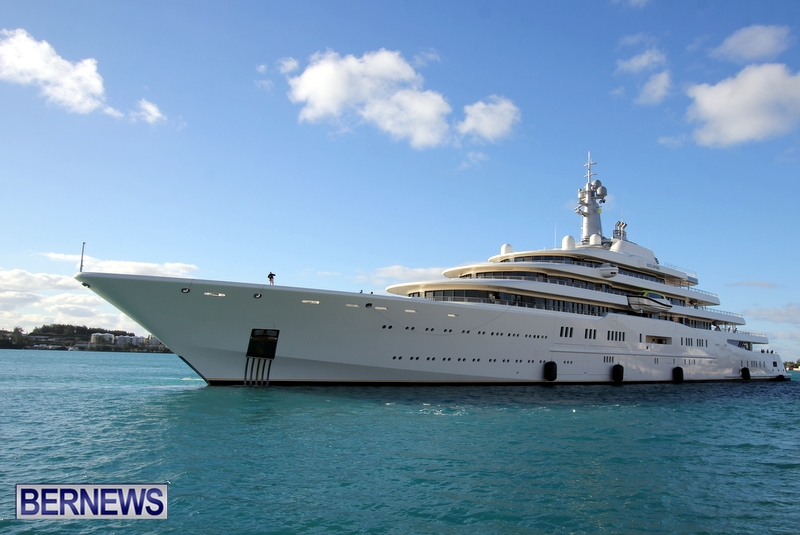 Mr Abramovich — the owner of the English Premier League Chelsea football team — is said to have an estimated net worth exceeding $12 billion, and is is listed as the 68th richest person in the world by Forbes.
The superyacht is over 500 ft long and is reported to be the largest private mega yacht in the world. The Russian tycoon owns other yachts – the 377ft Pelorus, 282ft Ecstasea and 160ft Sussurro – and also owns the world's biggest private jet, a Boeing 767.
The Eclipse is reported to have at least two helicopter pads, several jacuzzis, two swimming pools, steam room, disco hall, library, three larger tenders, a private submarine, six-foot movie screens in all guest cabins, 20 jet skis and some 6,000 sq ft of living space.
There are numerous reports about the motor yacht's various high tech security technology, which is said to include motion sensors, armour plating, a special missile detection defense system, and missile-proof windows. The yacht has been billed as a 'floating fortress', with the crew of 70 said to include former SAS and Special Boat Service personnel.
The reported cost of the yacht varies from $500 million to $1.2 billion dollars, with various reports citing different values. It appears possible to charter the yacht, that is assuming one has the $4 million per week price tag the service is listed at.
It is unclear who is aboard the yacht — which is Bermuda-flagged — and how long it will be staying on the island. It arrived in St George's at approximately 8am this morning, with Bermuda Yacht Services serving as the agents handling its arrival.
Click to enlarge photos:
Read More About
Category: All, Marine, Most Popular, News, Photos