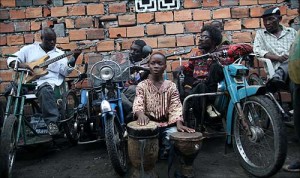 A critically acclaimed documentary that tells the inspirational story of African street musicians who become world music stars and a frothy and funny French romantic comedy, are the featured films at the Weekend Film Series this coming Sunday [Feb. 19].
"Benda Bilili!" [pictured] — the story of five paraplegics and a young able-bodied teenager who form a musical group — will screen at the Bermuda Underwater Exploration Institute [BUEI] Tradewinds Auditorium at 3 p.m., while "Romantics Anonymous" will be showing at 5.15 p.m.
The documentary is the inspiring and heartwarming story of a group of street musicians who go from sleeping on cardboard on the streets of Kinshasa, Democratic Republic of Congo, to performing in Europe's great concert halls.
Gathering beneath the acacia trees around Kinshasa's zoo, the group of disabled and able-bodied musicians make up Staff Benda Bilili [in English, "Look Beyond Appearances"]. They sing about their lives, creating sounds rooted in African rumba with elements of old school rhythm 'n blues, funk and reggae.
"Benda Bilili!" Trailer
The film had its world premiere at the Cannes Film Festival and was nominated for Best Documentary at the Cesar Awards, France's national film awards. It screens in French and Lingala with English subtitles.
Chocolate is a metaphor for love in "Romantics Anonymous", a frothy, funny and utterly charming French romantic comedy starring Isabelle Carre [Angelique] and Benoit Poelvoorde [Jean-Rene].
Angelique is a member of therapy group Emotions Anonymous who is trying to overcome an uncontrollable shyness that prevents her from properly sharing her confectionary talents. When the timid Jean-Rene hires Angelique as his chocolate company's new sales associate, the two nervous Nellies are drawn together by their shared passion for chocolate. This delectable comedy was a hit at the French box office.
"Romantics Anonymous" Trailer
Tickets, $15, can be purchased in the Oceans Gift Shop at the BUEI, or by calling 297-7314.
The Weekend Film Series, sponsored by Gosling's, is a joint production of Bermuda Documentary Film Festival director Duncan Hall and the BUEI.
Bermuda Docs and the BUEI are also presenting the Oscar-nominated Oscar-nominated short films at the BUEI. The documentary short series screens on Thursday February 23 at 6.30 p.m., the Live Action shorts screen on Friday February 24 at 6.30 p.m., and the Animation shorts screen on Sunday February 26 at 3 p.m.
Read More About
Category: All, Entertainment, Films/Movies, Videos