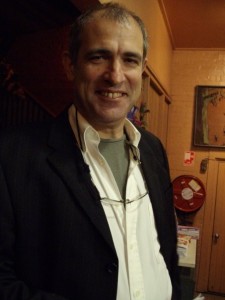 By the pricking of my thumbs, something wickedly ambitious this way comes … an outdoor production of William Shakespeare's "Macbeth," with Fort Hamilton standing in for the Scottish warlord's Dunsinane Castle.
"Macbeth" is Shakespeare's shortest and bloodiest tragedy, and tells the story of the namesake Scottish general who receives a prophecy from a trio of witches that one day he will become King of Scotland.
Consumed by ambition and spurred to action by his wife, Macbeth murders King Duncan and takes the throne for himself.
His reign is racked with guilt and paranoia, and he soon becomes a tyrannical ruler as he is forced to commit more and more murders to protect himself from enmity and suspicion.
The bloodbath swiftly takes Macbeth and Lady Macbeth into realms of arrogance, madness, and death. The auditions for "Macbeth" will be held on April 21 and 22 from 1:30 p.m. to 4 p.m. upstairs at the Bermuda Musical & Dramatic Society's Daylesford Theatre.
John Zuill [pictured] — described as "an awesome director and visionary" by fellow Bermudian thespian Daren Herbert – will be helming the production.
"Macbeth is one of Shakespeare's most popular plays," said Mr. Zuill, who last year staged a production of the Bard's "Much Ado About Nothing" at Victoria Park. "Its words still twist the soul in uncanny ways after centuries of really good horror novels and movies. Why? The Macbeths have been called the best marriage in Shakespeare.
"They tried to have a baby, it didn't work out. Sad story. But they stuck together. They're good people: the husband is brave and doing well in the army.
"It's a story about ordinary people who are given choices. They begin to imagine what could be theirs if they could put aside thier consciences. We all get that choice. 'Macbeth' opens the little black door in the cellar of all our hearts."
Sir Ian McKellen recites the "Tomorrow and tomorrow …" speech from "Macbeth" 
Mr. Zuill said while the play clearly demonstrates the corrupting effect of ambition, it also deals with the relationship between cruelty and masculinity, tyranny and kingship, treachery, violence, guilt, prophecy, and disruption of the natural order.
The Bermuda production will be staged at Fort Hamilton in September.
This is the second major of "Macbeth" to utilise one of Bermuda's historic forts as its backdrop.
Academy Award-winning actor Charlton Heston played Macbeth in 1953 in an open-air production at Fort St. Catherine directed by Burgess Meredith.
During the first performance, when he was riding a horse bareback around the East End fort's ramparts, Mr. Heston suddenly rushed off stage, pointing at his tights, writhing in pain and yelling: "Get them off me!"
According to the actor's autobiography, whoever had laundered his tights had dipped them in kerosene and the sweat of the horse and the heat caused serious burns to Mr. Heston's legs and groin.
Later, the wooden facade of Macbeth's castle came down burning as planned, but the wind blew flames and smoke into the Bermuda audience. Fortunately, nobody was injured.
For further information contact John Zuill at joz1@me.com
Read More About
Category: All, Entertainment