Earlier today [Aug 11] friends and family gathered at Windreach to wish Jessica Lewis well, with the 19-year-old athlete getting ready to take off for London where she will become Bermuda's first ever track & field Paralympian.
Lewis will represent the island in three events in the 2012 London Paralympic Games; on September 1st she will compete in the T53 100m, on September 6th she will compete in the T53 200m and one day later she will compete in the T53 400m.
Lewis with her mother and friends at her sendoff at Windreach today: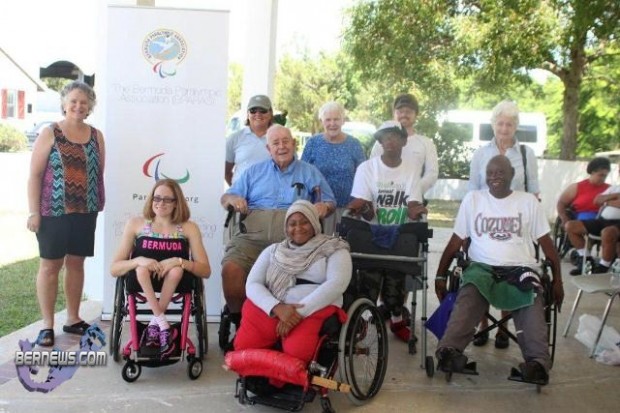 She is going into the Games ranked in the top 12 in the world in all three events she will contest. Her time of 18.51 in the T53 100m has her ranked 7th in the world [link], she is ranked 10th in the T53 200m [link] and is ranked 12th in the T53 400m [link].
In 2009, WindReach Bermuda's Adaptive Sport Co-Ordinator Tammalita Astwood called the Bermuda Track and Field Association to ask if there was a coach that would be willing to take on Lewis in Wheelchair Track.
Well known local track coach Gerry Swan stepped up and offered to coach Lewis, with long distance help from Ken Thom of Ontario, Canada, as he had never coached a wheelchair athlete before.
Coach Swan with Lewis at her sendoff at Windreach: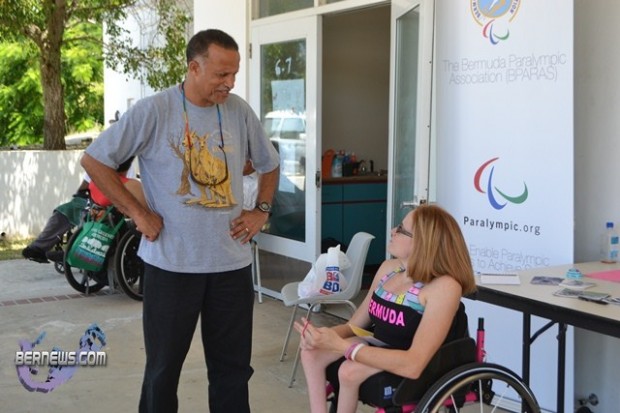 In April, 2010 Jessica entered her first International Paralympic Committee sanctioned race, the Dixie Games in Tampa Florida. She achieved a time of 22.22 seconds for her 100 meter race and 40.90 seconds in her 200 meter race.
In July of that year she attended Boiling Point Games in Canada and added the 400 meter to her race list in a time of 1.17.62. In September, 2011 Lewis entered Brock University in Ontario so now trains solely under Coach Thom.
On Fridays, Lewis would travel an hour and a half by bus, with her track chair, to her weekend home, Coach Thom and his wife Karen's house. She would train Friday night and again on Sunday with Coach Thom's other track athletes.
Lewis speaking today on the Paralympics:
Lewis continued racing, eventually achieving the qualifying standard in the 100m, 200m and 400m in the T53 classification. She is looking at these Games as an experience, and is thrilled to be racing against the best in the world including her mentor Anjali Forber-Pratt, a two-time Paralympic medalist who has visited Bermuda.
The former Saltus student makes up Bermuda's entire 'one-woman' team for the Paralympics, however she will be accompanied to London by her coach, the President of the Bermuda Paralympic Association, her proud parents and other supporters.
As with the Olympics, the Chinese tend to dominate the Paralympic medal table, and the defending gold medalist in the T53 100m is Lisha Huang from China, who won in 2008 with a world record time of 16.22. Huang is also the defending champion in the T53 200m
Women's 100m T53 final at the 2008 Beijing Paralympic Games:
One of the big stars of the 2012 Paralympics is expected to be South Africa's Oscar Pistorius, the world record holder and defending champion in the 100, 200 and 400 meters in the T44 division.
After a protracted legal battle in which some opponents claimed the double-amputee runner's man-made legs gave him an "advantage", the 25-year-old athlete was cleared to compete at the recent Olympic Games.
Unlike their counterparts in the Olympics, the Paralympians are not expected to receive widespread television coverage, however Paralympic.org will be live streaming 780 hours of sports online during the Games so Bermudians will be able to tune in to watch our Paralympian in action.
Paralympic.org live stream promo:
The 19-year-old will become only the fourth athlete from Bermuda to compete at a Paralympic Games, following after Kirsty Anderson, Phyllis Harshaw and Sandy Mitchell who all competed in Equestrian events.
She said she hopes to follow in the footsteps of the fine performances by Bermuda's athletes at the recent Olympic Games, and she hopes she can do as well as they did and make Bermuda proud.
Read More About