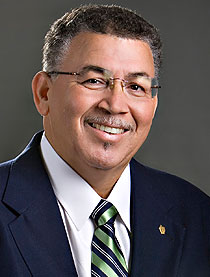 [Updated - Mr Bush released on bail] Cayman Islands Premier McKeeva Bush has been arrested on suspicion of theft, alleged misuse of a Government credit card, breach of trust, abuse of office and conflict of interest.
The 57-year-old leader of the British overseas territory was arrested at his home this morning [Dec 11] by officers from the Royal Cayman Islands Police Services financial crime unit.
A statement on the Royal Cayman Islands Police Force website said: "The Premier of the Cayman Islands, McKeeva Bush (57), has been arrested and is currently detained in police custody in connection with a number of ongoing police investigations.
"Officers from the RCIPS Financial Crime Unit arrested Mr. Bush at around 7.00 am this morning (Tuesday 11 December 2012) at his home in West Bay.
"Mr. Bush has been arrested on suspicion of: Theft, in connection with financial irregularities relating to the alleged misuse of a Government credit card, and Breach of trust, Abuse of office and Conflict of interest, contrary to S13, S17 and S19 of the Anti-Corruption Law 2008 respectively, in connection with the alleged importation of explosive substances without valid permits on or before February 2012.
"It would be inappropriate for the RCIPS to make any further comment in relation to these matters at this time. Further updates will be made available in due course."
This follows only a few days after the arrest of Michael Misick, the former premier of the Turks & Caicos Michael Misick, who was detained in Brazil on Dec.7 in connection with allegations of corruption.
Video report from the Caymanian Compass:
Update 10.57am: Some of the Cayman news website are having trouble loading, presumably due to high traffic loads from this breaking news, however CayCompass reports that no charges have been filed against Mr Bush at this point, and the police had cordoned off an area around his home this morning, letting only family members through.
Update 11.31am: The CayCompass has updated their report, saying the ruling United Democratic Party party is said to be meeting to determine how the government will proceed, and also noted that Mr Bush's house appears to be getting searched by the Cayman police at this time.
Update 10.38pm: Am update from the Cayman Police said: "The RCIPS can confirm that Premier McKeeva Bush has been released from custody following a series of interviews. Mr. Bush has been placed on overnight police bail and will return to face further questioning tomorrow morning."
The Cayman police also confirmed that a second man has been arrested and is detained in police custody in connection with the ongoing investigation. Cayman Islands Governor Duncan Taylor released the statement below:
"I am aware that the Honourable Premier, McKeeva Bush, has been arrested this morning in connection with a number of ongoing police investigations. The reasons for the arrest have been set out in the statement issued by the Royal Cayman Islands Police Service.

"The conduct of criminal investigations in the Cayman Islands is a matter for the Police Commissioner. If evidence is brought to his attention which leads him to suspect that an offence or offences may have been committed, I expect him to carry out a robust, fair and comprehensive investigation, regardless of the individual concerned. I am confident that the Police Commissioner will ensure that this applies to the ongoing investigations involving the Premier.

"I would like to reassure the people of the Cayman Islands of my commitment and that of the whole of the Cayman Islands Government to ensure the continued effective functioning of the government and the continued efficient delivery of services to the public."
Read More About