An online petition has surfaced in support of Natalie Simpson, the 25-year-old woman who was sentenced to two years in prison last month for an assault that took place at a New Year's Eve party in Hamilton on January 1, 2014.
Asking "where is the consistency in the Bermuda Judicial system," the petition — which has over 700 signatures — asks people to sign it if they "believe the sentence was unfair."
Following the incident, a police spokesperson said, "The victim states that she was at Pier 6 at a New Year's celebration when an unknown female walked up to her asking her "why are you talking to him." The suspect then assaulted the woman. This resulted in the victim being taken to the hospital where she required facial surgery."
The unknown woman was later identified as Ms. Simpson, who was officially charged with the crime on January 9, 2014. The British national — who was employed as a beauty therapist – plead guilty in March.
File photo of Ms. Simpson being escorted from court following her sentencing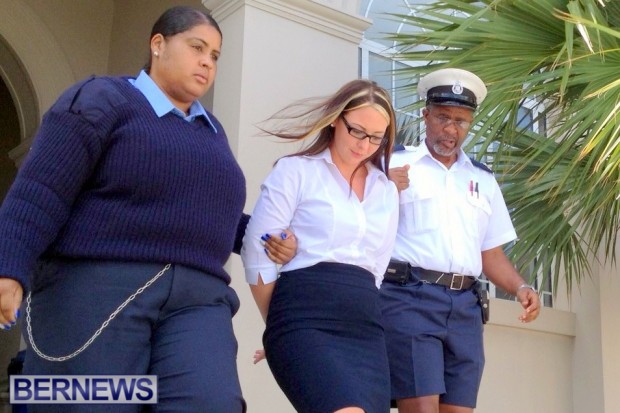 The petition says, "On the 27th of May 2014, Natalie Simpson was convicted of unlawfully wounding another female in Bermuda. At all times Natalie has been honest about the crime and respected the judicial system but was sentenced to four years, reduced to two years, for her guilty plea and no previous record.
"She also had a full social inquiry into her character and this resulted in them recommending a probation period with a custodial sentence having no benefit for Bermuda or Natalie, she is of good character and is classed as the lowest risk of re-offending. Never before has an individual received a four year sentence for such a crime with the judge even stating she would set an example of her.
"Natalie is a 25-year-old lady who has been in Bermuda for five years, she has never been in trouble and has been an honest hard working resident for the whole time.
"Yes she made a mistake but this sentence means she will have to serve a minimum of 16 months for an incident for which she is wholly sorry for, the reason being ex pats are not eligible for parole in Bermuda because their work permits are revoked.
"Please sign this petition if you believe the sentence was unfair considering her honesty, no previous criminal record or arrests and current criminal cases in Bermuda, for example a young man in Bermuda was recently sentenced to 6 years for manslaughter whilst wielding a knife, where is the consistency in the Bermuda Judicial system."
Not everyone agrees with the petition's premise, with some comments left supporting the sentence. "Sorry but I agree with the sentence…violence is violence cannot be tolerated in a civil society," said one comment.
The 700 plus signatures appear to mostly be generated from people overseas, with signers identifying themselves as from nations including Bermuda, Italy, Canada, Australia with a large amount of signers listing themselves as being from the United Kingdom.
The petition has also attracted some 1,000 Facebook "likes".
Read More About