The Richard Eve Scholarships were awarded to eight deserving students at the St. Paul AME Church today [July 10], with more than $20,000 given to students to assist with their post-secondary education.
The following students received awards from the Richard Eve Scholarship for 2014:
Ciara Burrows – Arts and Business, Waterloo University [$5,000]
Meshalae Hayward – Applied Dance, University of Tampa [$5,000]
Marcus Smith – Musical Theatre, Tisch [$3,000]
Jennifer Looby – Law, Holborn College/University of London [$2,000]
Treaz Place – Psychology [$2,000]
Wendell Tre Ming – Education, Thomas College [$2,000]
D'kiyah Evans – Media and Communications [$2,000]
Cara Philip – English Literature and Environmental Sustainability [$2,000]
In describing the history behind the scholarship, a spokesperson said, "Richard Eve was a Bermudian tailor, born in December 1860. In the nineteenth century, his name was not recorded in pages depicting the political life of the country, but the records of that time have associated him with men who were actively attempting to improve the educational tone of the people of Bermuda without considering race."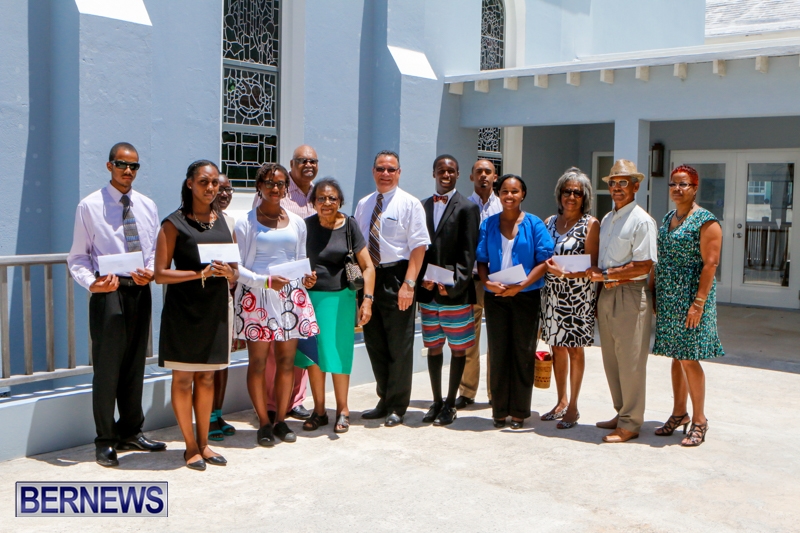 "As a member of St. Paul African Methodist Episcopal Church, he occupied a seat in the family pew on the northern side of the sanctuary. He had a dream and was inspired to name the Trustees of the church as a medium through which his contribution to higher education could be made effective; this would happen after conditions affecting his family members had been fulfilled.
"The capital required for this venture into higher education was to be provided from the sale of lots of an estate owned by him and located off Parson's Road in Pembroke East."
2014 Richard Eve Scholarship Awards presentation:
"In December 1974, a sub-committee was appointed from the Board of Trustees to carry out the wishes of Mr. Eve's will. Fortunately, Justice Earl Seaton, a Trustee and Puisne Judge presiding in the courts of Bermuda, accepted the chairmanship of the sub-committee.
"Acting in the dual capacity, Justice Seaton guided the actions of the sub-committee to the point where a university scholarship was offered for the first time in 1978.
"Richard Eve had died 64 years earlier, in September 1914. Today, a hundred years after his death, we see his dream continuing to provide university education for deserving students."
Read More About