The latest issue of Triathlete Magazine features an article on Bermuda's Flora Duffy, who recently claimed a string of XTERRA victories in Utah, South Africa, Nevada, Australia and Alabama.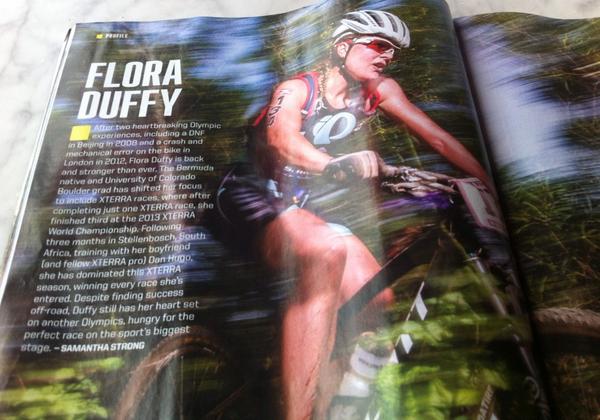 The caption, written by Samantha Strong said, "After two heartbreaking Olympic experiences, including a DNF in Beijing in 2008 and a crash and mechanical error on the bike in London in 2012, Flora Duffy is back and stronger than ever.
"The Bermuda native and University of Colorado Boulder grad has shifted her focus to include XTERRA races, where after completing just one XTERRA race, she finished third at the 2013 XTERRA World Championship.
"Following three months in Stellenbosch, South Africa, training with her boyfriend [and fellow XTERRA Pro] Dan Hugo, she has dominated this XTERRA season, winning every race she's entered. Despite finding success off-road, Duffy still has her heart set on another Olympics, hungry for the perfect race on the sport's biggest stage."
Considered the leading international publication in the triathlon world, the magazine has also featured the island's other leading triathlete, Tyler Butterfield.
Read More About