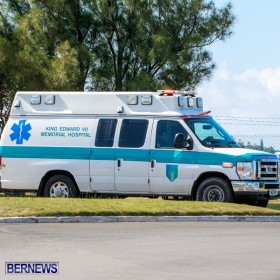 An ambulance team based at the Bermuda Regiment's Warwick Camp this morning [Oct 17] swung into action after an emergency call from a woman who had gone into labour early.
King Edward VII Memorial Hospital critical nurse Shaunne Smith said, "It's useful being based up here. Everybody's got their stations and their areas."
The Regiment's HQ, where two ambulance crews and nurses are based in the run-up to the expected major hit by Hurricane Gonzalo, got the emergency call around 8.15 am this morning that the women, from nearby Cobbs Hill Road, Warwick, had started giving birth ahead of schedule."
Staff Nurse Smith said, "She had a few weeks to go, but she was within the normal range. The woman was rushed to the King Edward and turned over to the hospital's maternity unit."
Regiment CO Lt Col Michael Foster-Brown said, "This is a good example of the kind of facilities the Regiment can offer to the other emergency services. The Regiment had also delivered more than 150 camp beds and field ration packs to other agencies, including emergency shelters on standby.
"With the logistics, equipment and training we have, we're able to provide support in all sorts of ways, proving the value of a disciplined and well-organised force.
"We've always said we're the Island's insurance policy – over the next few days the people of Bermuda will be cashing it in."
"Earlier, Col Foster-Brown briefed his officers and senior NCOs in the run-up to the expected arrival of Gonzalo tomorrow. He said the Royal Navy's HMS Argyll and its crew of more than 180 sailors plus a Lynx helicopter was steaming towards Bermuda, with up to 90 sailors potentially to be based at Warwick Camp to help with storm recovery."
Col Foster-Brown said, "The helicopter can project forward 200 miles and could arrive in Bermuda on Saturday, with Argyll following on Sunday.
"Regiment soldiers have trained in aircraft operations on overseas deployments and it will be a very useful addition for things like damage reconnaissance of the Island and casualty evacuation if necessary."
For all our coverage of Hurricane Gonzalo click here, and for our live blog where we are bringing you continuous live coverage of Hurricane Gonzalo click here .
Read More About