News that CedarBridge Academy's Class of 2015 donated to local charities, Deloitte donating $5,000 to the Alpha Beautillion, Nahki Wells winning Huddersfield's Golden Boot award, and Kathy-Ann Swan being named Nurse of the Year were some of the positive news stories from this past week.
Other good news stories included the Beyond Rugby program expanding to the Berkeley Institute, Dage Minors winning an 800m race in Connecticut, and the Acadia University Axemen naming Ryan Parris as Rookie of the Year.
We also posted various community photo galleries, including the Bermuda Roller Derby Bootcamp, the Sir Stanley Burgess 5K, Prospect Preschool's Sports Day, the Paralympic Petal being presented to the City, CedarBridge Academy's 'Teen Girls In Focus' in Delaware, Little Learners Preschool's Mini Ag Show, Team Oracle sailing their AC45 vessel,  a visit to Hamilton by the ETA Motorcycle Cruising Club and Berkeley Institute's fashion show.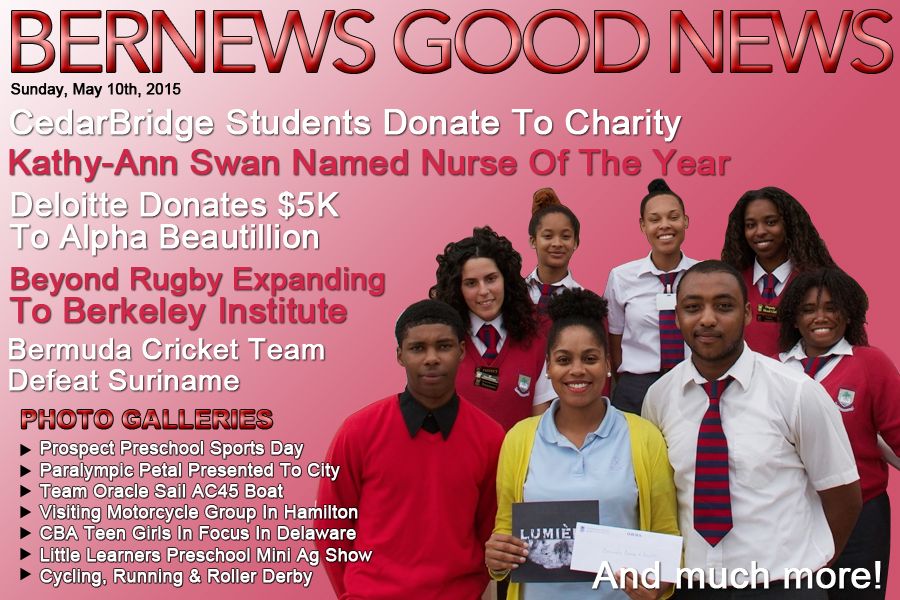 In an effort to highlight some of positive news happening in our community, we supplement our standard morning and evening email newsletters with a special Sunday "Good News" email newsletter edition, which strictly focuses on the positive news from the past week.
You can sign up to have the free newsletter delivered via email here, and/or access the links below. In addition, for those who like positive news, please feel free to visit our sister site ForeverBermuda.com, which seeks to showcase the best of Bermuda as well as provide information and listings for visitor related services.
Links to some of the 'good news' from the past week are below:
Read More About