News that Flora Duffy won a Pan Am medal, Alyssa Rose being crowned Miss Bermuda 2015, the Pacers track club won medals in Canada, new business Xtreme Sports has launched, Bermuda is featured in an episode of 'Chasing Life,' Tyrone Smith won the long jump event in Italy, 30 couples were honoured for their 50+ years of marriage, and Marsh and Guy Carpenter donated $2,000 to Focus Counselling were all some of the positive news stories from the past week.
Other good news stories included Aon Group pledging $30,000 for the BFIS Mentor Networking Programme, swimmer Roy Allan-Burch being featured in Open Water Swimming Magazine, Warwick Academy students achieving "outstanding results," two Bermudians swimming the English Channel for charity, a pair of celebrities paying Bermuda compliments, Bermuda Police winning five medals at the World Police & Fire Games, Riann Ming being awarded the Brown Family Scholarship, and Leah Smith winning the U15 Girls Soccer MVP Award.
We also posted various community photo galleries, including coverage of the week's Bermuda Fashion Festival, the Red Carpet Reception, July 4th fireworks, Bermuda youth footballers playing in Canada, the Portuguese Festival of the Holy Spirit, the Miss Bermuda Pageant, cycling and clean-up efforts by the Bermuda Tourism Authority and Keep Bermuda Beautiful at Elbow Beach.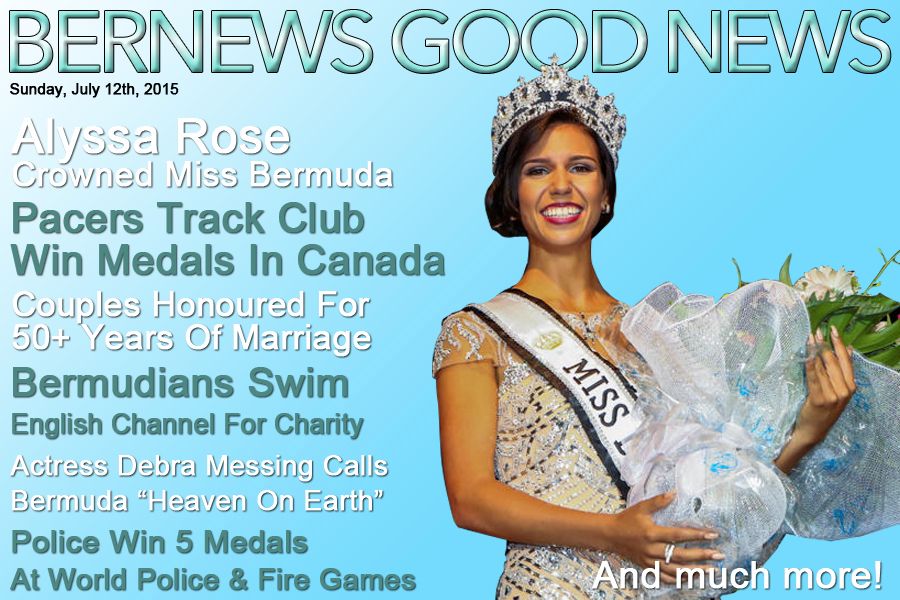 In an effort to highlight some of positive news happening in our community, we supplement our standard morning and evening email newsletters with a special Sunday "Good News" email newsletter edition, which strictly focuses on the positive news from the past week.
You can sign up to have the free newsletter delivered via email here, and/or access the links below. In addition, for those who like positive news, please feel free to visit our sister site ForeverBermuda.com, which seeks to showcase the best of Bermuda as well as provide information and listings for visitor related services.
Links to some of the 'good news' from the past week are below:
Read More About