She may have qualified for the Olympics and been selected to race for Bermuda in the Red Bull Youth America's Cup, but like any student Ceci Wollman still has exams to take.
This week, the Saltus Grammar School student will sit down with her class mates and take her Advanced Placement [AP] exams with the hope of doing well enough to be accepted into Southampton University, in the UK.
At a special assembly to wish her luck, Jon Beard, Saltus Deputy Head, said: "Ceci is a student in SGY who will graduate this year.
Jon Beard with Ceci Wollman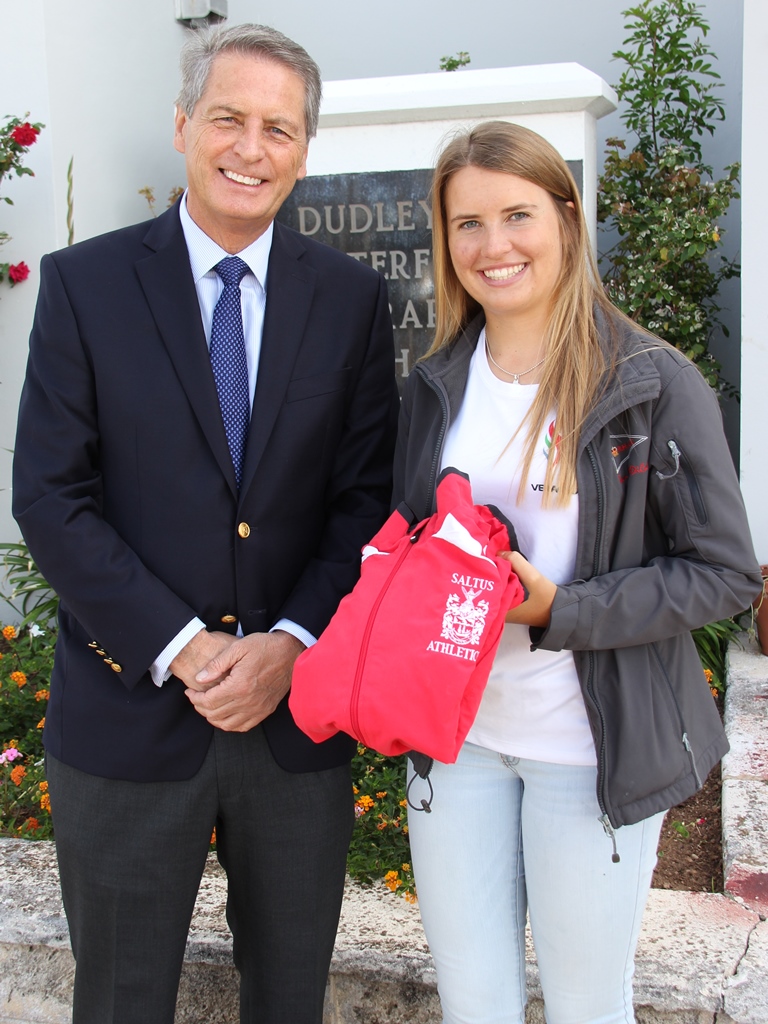 "However, her journey is somewhat different to everyone else as Ceci has spent the last few years training very hard to achieve her goal of representing Bermuda in the 2016 Olympics, to be held later this year in Rio de Janerio, Brazil. She achieved this with an outstanding performance this year in Miami."
Mr Beard said that for the last 12 months Ceci had spent a lot of time training with top competitors in South America, but had kept up her academic work.
"This year she was voted as Bermuda's Junior Female Athlete of the Year, and has been selected, along with four Saltus alumni, to represent Bermuda in the Red Bull Youth America's Cup, which will be held in Bermuda.
Ceci Wollman returns home after qualifying for the Olympics earlier this year:
"Once her exams are out of the way then Ceci will be training hard again to ready for August and the 2016 Rio Olympic Games. Good luck Ceci – we are all behind you!"
Mr Beard also singled out another Saltus alumni, Shelley Pearson, who will compete in rowing at the Olympics. Other Saltus alums still vying for Rio are swimmers Roy Allan Burch and Julian Fletcher; and Paralympian Jessica Lewis.
"I know Shelley is a very determined person and student who is very dedicated to her sport," said Mr Beard. "The whole school, and the alumni, are willing her on in Rio. As we wish Ceci every possible success, so do we wish Shelley every possible success as well.
"We wish all of these wonderful athletes the very best of luck in achieving their dream."

Read More About