SoftBank Team Japan, together with a crowd of over 500 dignitaries, friends, and family members, celebrated the completion of the team's new Bermuda base with a traditional "roof wetting ceremony" performed by Premier Michael Dunkley.
The official opening of the facility caps a 5-month construction program along the Dockyards waterfront and marks a significant milestone in the Japanese campaign.
SoftBank Team Japan General Manager Kazuhiko Sofuku was on hand to propose a ceremonial sake toast at the opening.
"Unbelievable! I am really proud of our team", said Sofuku, enthused by the progress the team has made since announcing their America's Cup challenge just over one year ago.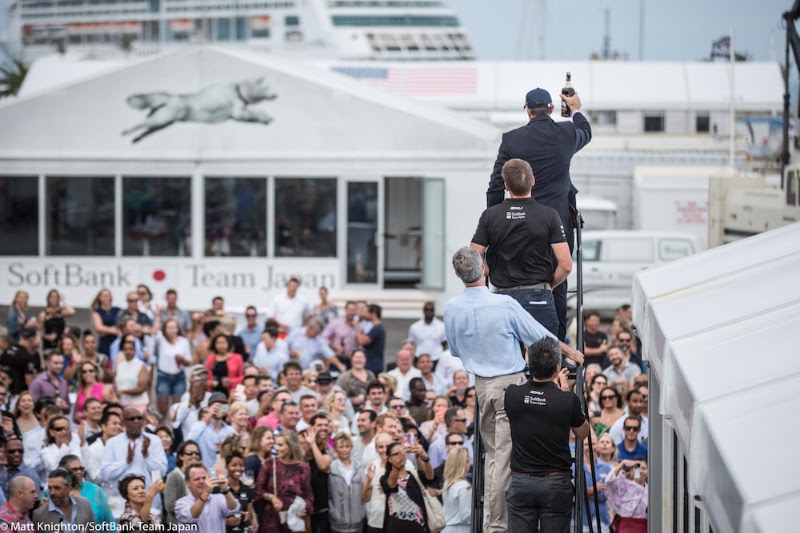 "Since the end of last year, we've put lots of effort into building our base along with our sailing program. It was an enormous amount of hard work for a small team in such a short time but it proved that we could achieve a big task as we work together."
With the Japanese flag flying high above the base, Premier Michael Dunkley did the honors of christening the facility – an island tradition that involves pouring a bottle of rum on the roof of the building.
"The sake toast and traditional Bermuda roof wetting were a wonderful cultural exchange and it was great to see such a big crowd out for the event", said Minister for Economic Development, Dr. Grant Gibbons.
"Everyone that I've spoken to at SoftBank Team Japan has been delighted with the support they've received here in Bermuda. I'd like to thank everyone involved, from local contractors, to movers, to Bermudian members of their team for all the hard work in getting them set up so quickly and successfully."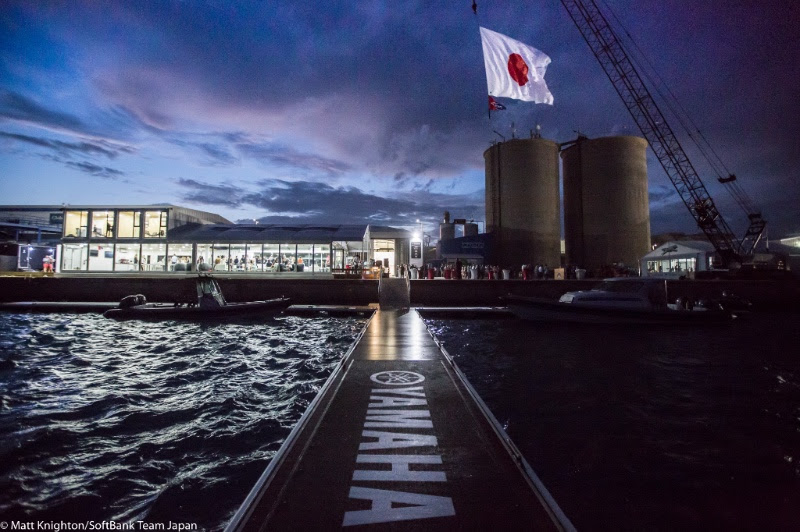 Constructed primarily out of renovated shipping containers, the new base is made up of training facilities, a hospitality suite, management offices, athlete locker rooms, design offices, and a wing shed all of which were open to the public Saturday.
However, the boat shed where the team is currently undertaking several performance modifications on their AC45 Sport test boat was understandably "off limits" to attendees.
Mike Winfield, the CEO of America's Cup Bermuda, was delighted yet another team has completed their move to the island and begun training on the Great Sound.
"This is another important milestone in the America's Cup journey for Bermuda", said Mr Winfield. "Of course, SoftBank Team Japan was not even entered into the America's Cup when we won the bid so we're especially happy that they decided to set up their main base here and bring the entire team, which is about 40 families, to Bermuda. This is our third America's Cup roof wetting, so we've got three more to go."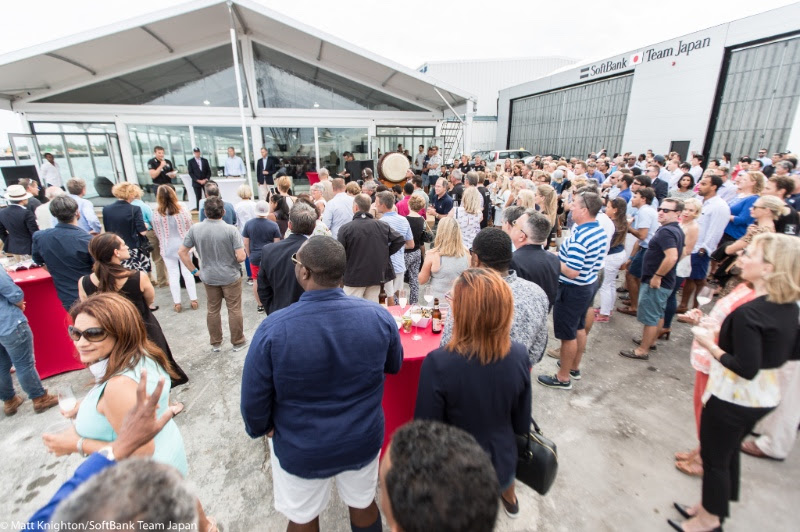 SoftBank Team Japan now joins Oracle Team USA and Artemis Racing officially as the third team to open their base of operations at the future venue of the 2017 America's Cup.
Having already spent the past three months training on the Great Sound, the ability to shift focus from base build to the testing and development of foils and control systems will accelerate the team's competitiveness going forward.
"It's a huge benefit to have our training base located right on the future America's Cup venue", said Sofuku. "Especially with regards to the sailing environment, what we learn each day has been translating 100% directly into our performance analysis."
Important milestone for @SoftBankTeamJPN as they officially opened their Bermuda base over the weekend! pic.twitter.com/ioyGRhshqc

— America's Cup (@americascup) May 17, 2016

- Photo courtesy of Matt Knighton/SoftBank Team Japan

Read More About