[Written by written by Phil Trussell] Fine weather conditions greeted the 128 adult and junior riders who took part in the Team Madison Digicel Road Race on Sunday.
Pitched as the Twin Peaks Race, the course took in the climbs of St David's Lighthouse, and one of the toughest hills in Bermuda, Knapton.
The Junior A and B categories raced a relatively flat course from the race start at John Smith's Bay to Paynter's Road and back. Winner of the Junior A over eight miles was Caleb Ingham, followed by Blake Oliviera in second and Liam Flannery in third position.
The four mile Junior B race was won by Tommy Marshal, beating Nazarai Fox into second, with Manning Smith taking third.
The female Junior B's were led home by Megan Hands, followed by Zoe Hasselkuss and Amber Smith.
Returning to the adults, the A race was quickly brought into life by a five man breakaway representing the teams of Winners Edge, Tokio and Bicycle Works, which had established a 50 second lead by the first climb of St David's Lighthouse Hill.
The group maintained their lead over the course of two more laps that took them to the airport roundabout and back, but were reeled in by the main pack before the first ascent of Knapton Hill.
By the time the race passed the start/finish line, before two more climbs of Knapton, a lead Group of six riders had broken away. Young Winners Edge riders, Matthew Oliviera, Kaden Hopkins and Tyler Smith were joined by Chequan Richardson of Bicycle Works, Dave McComas of Tokio and Phil Mace of Team Madison Digicel.
L-R, Tyler Smith, Philip Mace, David McComas, Chequan Richardson, Kaden Hopkins & Matthew Oliveira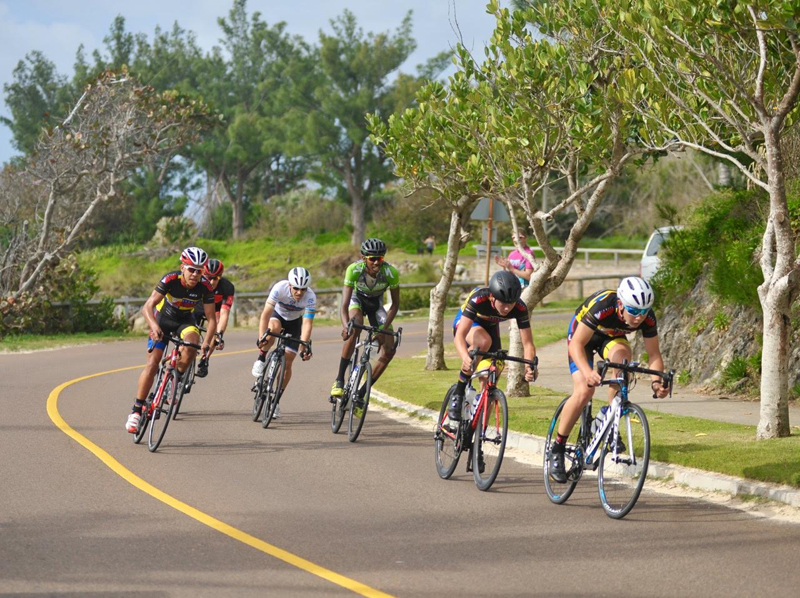 This group managed to stay away until the final climb of Knapton, when Matthew Oliviera established a race winning lead which he held along South Shore Road to the finish, beating Dave McComas into second by around 15 seconds. Phil Mace took third a further 15 seconds back ahead of Tyler Smith.
Young Kaden Hopkins suffered some bad luck on the last climb when his rear derailleur snapped while still in contention.
In the Adult B race Jonah Jones attacked early on and built up a one minute lead by St Davids on the first lap.
He was later joined by Kevin Topple and Andrew Soares, and this trio managed to stay away from the main pack until the last Knapton Hill climb.
By the finish, mountain biker Robin Horsefield had attacked and beat Adam Kirk into second place by 6 seconds. Veteran Kevin Topple held on for third place ahead of Rajul Matthie Shakir, Kian Wookie and the very impressive Alyssa Rowse.
The Adult C race quickly split up over one lap of the St David's loop and two laps of Knapton. Conor White took the victory by 3 seconds from Ziani Burgesson, who in turn was three seconds ahead of third place Karl Wilson.
In the Women's race, which was held over the same course and distance as the Adult C, Martina Olcheski Bell of Team Madison Digicel broke away early, and held off Winners Edge riders, Karen Smith and Julia Hawley, who finished second and third respectively.
In what was the very first road race for the newly established Novice Women's group, it was very encouraging to see 20 riders line up for a 17 mile race dash to St David's Lighthouse and back.
In the end it was a Team MisFits clean sweep of the podium, with Louis Wells taking the win ahead of Sharon Hammond and Marina O'Shea.
So in conclusion, the event was a great success with an excellent turn out, despite the tough nature of the course which definitely favoured the climber. Many thanks to the numerous volunteer marshals, without which, events of this nature could not take place.
The full Team Madison Digicel Road Race results follow below [PDF here]:

Read More About