In celebration of the school's 120th anniversary, the Berkeley Institute Anniversary Celebration Committee is shining a spotlight on its alumni, with the eighth profile highlighting Juan Philip Wolffe, Class of 1982, Gold House.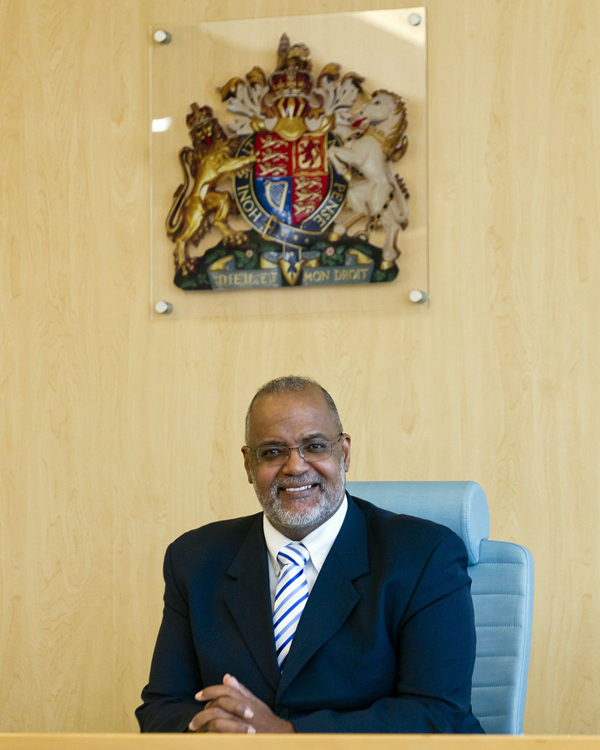 What does it mean to you to be a Berkeleyite?
As a young black boy who was born and raised in the "back-of-town" area, being a Berkeleyite instilled in me a deep pride and confidence that I could academically and otherwise compete against those who may have been more financially secure than I.
What is your fondest memory of your time at The Berkeley Institute?
I have many fond memories, but the rivalry between gold house and green house on every sports day stands out. Also, the Prom and Cotillion at Southampton Princess was quite memorable with the young ladies in their flowing white gowns and the young gentlemen in their white tuxedo jackets [Dame Jennifer Smith choreographed the Cotillion and we waltzed to the song "Chariots of Fire"].
What made The Berkeley special to you?
The fact that many of the students who attended were just like me: working class and in single parent families, but academically gifted. It was an environment with highly qualified teachers who genuinely cared about the academic achievements of their students.
How have you applied the motto Respice Finem to your life?
To me "Respice Finem" means that one should never be completely satisfied with where they are in life, and that one should never cease striving to be a better person [whether in one's personal or one's professional life].
What advice would you give to current Berkeley students and other young people?
Take full advantage of all of the opportunities that are being offered at The Berkeley. In my profession I see on a daily basis those who, for some reason or another, did not deem education to be important but who now find themselves embroiled in unfortunate situations that they may not have been in had they taken their education seriously.
What do you do for a living? How did The Berkeley prepare you for this?
I am the Senior Magistrate of Bermuda. The solid educational and social foundation that was constructed at The Berkeley fully prepared me for Bermuda College, University, and my professional designations.
What factors played a role in your decision to attend Berkeley?
My family went to The Berkeley, and it also provided the best academic environment in Bermuda. So there were no other viable options.
Who was your favorite teacher and why?
Too many to name [besides, I do not want to offend anyone]. Teachers that come to mind though: Robert Horton and Stanfield Smith. Most of my teachers were passionate about the subjects they taught and they instilled in me the discipline and commitment to learn.
How has/in what ways have Berkeley alumni helped to shape Bermuda?
By setting a positive and exemplary example for others to follow and by playing a significant role in the political, business, social, or medical fields of Bermuda.
What advice would you share with a student pursuing a career in your field?
Educate yourself academically but also be cognizant of the rights and suffering of others.

"From the onset Berkeley has been a beacon for the minds of tomorrow," Berkeley's 120th Anniversary Celebration Committee noted.
"The green and gold family is steeped in tradition and culture in academic excellence, Berkeleyites have made and continue to make profound and valuable contributions to Bermuda and the world.
"The Berkeley Institute wants to recognize the exciting and innovative things our alumni are doing, here in Bermuda and around the globe.
"Berkeleyites compromise all walks of life and careers from academia and athletes, to banker and business owners, educators and engineers, politicians and preachers, dancers and doctors to homemakers and hoteliers.
"We are recreational athletes to athletes on the world stage. Classroom debaters to barristers, boardroom strategies to Cabinet Ministers."
And as part of the celebration of Berkeley's 120th anniversary, alumni of the school are being featured on Bernews.

Read More About