Increased special-needs parking and mauve-hued menu items are among the special offers today [Nov 12] as Bermuda embraces its first Purple Tuesday, a global campaign to improve customer service for people with disabilities.
UK-based Purple, which founded the international day of recognition, praised Bermuda for commitment to Purple Tuesday.
"We applaud Bermuda for setting National Tourism Plan goals around an improved visitor experience for travellers with disabilities," said Purple CEO Mike Adams in a new video.
"By enhancing the travel experience for this audience, your island is well positioned to win its share of a multi-trillion dollar consumer market.
"Equally as important," Mr Adams noted, "you will improve the customer experience for disabled people and their families living in your community every day."
Chef Yogi at Bermuda's Utopia Eatery displays a Purple Shredded Chicken Salad menu special to honour today's global campaign for accessibility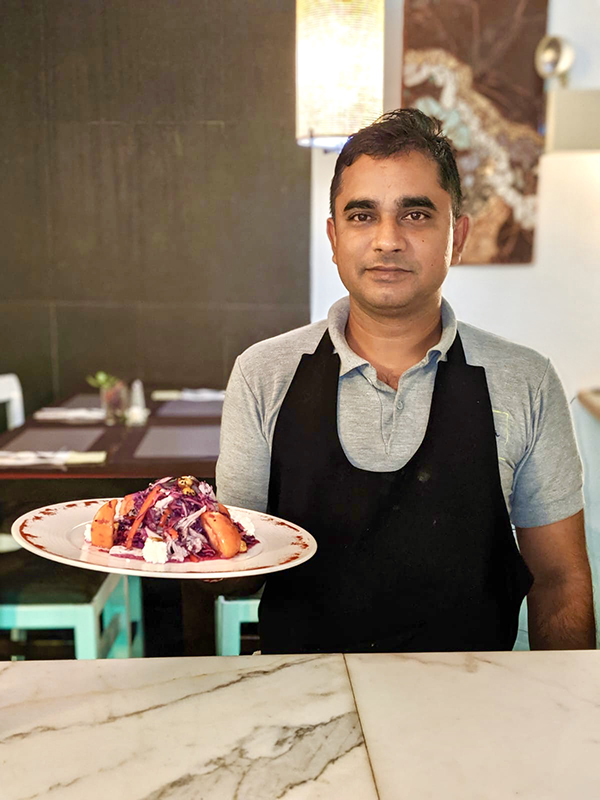 The Bermuda Tourism Authority [BTA] and its Accessibility Working Group are challenging customer-facing businesses to commit to sensitivity training in honour of Purple Tuesday.
Training sessions will take place in January, an action item of the National Tourism Plan. Stakeholders already registered to show commitment to better serve disabled consumers include:
Ambiance Bermuda
Benedict Associates
Bermuda Connections
City of Hamilton
Dolphin Quest
Grotto Bay Beach Resort
Hamilton Princess Hotel & Beach Club
Lifestyles Co. Ltd.
Utopia Eatery
Department of Workforce Development
| | | |
| --- | --- | --- |
| Organisation | Purple Tuesday Special Offer | Location |
| City of Hamilton | 20+ additional disabled parking spaces throughout Hamilton in the main shopping districts of Front, Reid and Court Streets | Front, Reid & Court Streets in Hamilton |
| Dolphin Quest | The Special Encounter experience is customised to special needs and offered at a reduced rate for the disabled guest and family/companions. Offered year-round. | The Keep, Dockyard |
| Utopia Eatery | Special menu items: Purple Passion Sangria [$3 per glass with an entrée] and Purple Shredded Chicken Salad | 17 Front Street, Hamilton |
Online registration is still available for sign-ups through the end of the week. It's also possible to sign up in person today on Nellie's Walk, Church Street, outside Hamilton City Hall, between 11:30 am and 2:30 pm.
In addition to the BTA booth there, some organisations, including the Department of Workforce Development, will wear purple to show support. Others are providing special promotions:
"It's so heartening to see the level of engagement from our local community around this first celebration of Purple Tuesday," said Glenn Jones, BTA's Chief Experience Development Officer.
"We invite other retailers, restaurants, hotels and other tourism stakeholders to join us in marking this milestone, registering for the special training sessions, and working with us to empower people of all abilities in our community."

Read More About