Bermuda CableVision today awarded its latest Community Service Award to Erica Smith, Chairman of the Board of Directors at Tomorrow's Voices Bermuda Autism Early Intervention Centre.
Mrs. Smith was presented with the award at a ceremony held at BUEI this morning, attended by Minister of Education Elvin James and Minister of Energy, Telecommunications and E-commerce Michael Scott. In honour of Mrs. Smith, CableVision is making a $1,000 donation to Tomorrow's Voices, which Mrs Smith said can be used to provide hundreds of hours of autism therapy.
Pictured below left to right: Mr Roberson, Minister Scott, Ms Smith, Minister James:
-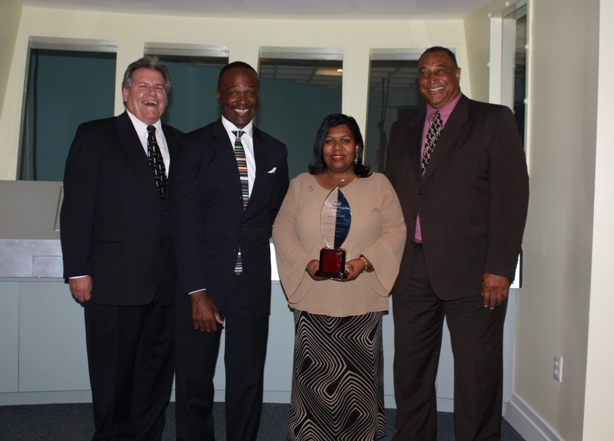 -
Tomorrow's Voices provides hands-on therapy services for children between the ages of 2 and 21 years who are diagnosed with autism. Autism is characterised by severe and pervasive impairment in several areas of development: reciprocal social interaction skills, communication skills or the presence of repetitive behaviour, interests and activities. The symptoms of autism present themselves differently in each individual child and on a varying scale. It is estimated that 1 in 110 children resident in Bermuda will be diagnosed on the autism spectrum, which Ms Smith said has risen recently from 1 in 150, and no one knows why.
Tomorrow's Voices was founded in October 2007 by Mrs. Smith's sister, Ms. Thea Furbert, and Ms. Tricia Crow, both parents of autistic children. Mrs. Furbert's 12 year old son Ciré was in attendance, as were a few other autistic children, including one little girl who enthusiastically clapped and jumped up and down in delight everytime Ms Smith's name was mentioned.
Mrs Furbert, and her son Ciré Furbert-Lambert are pictured below on the right:
-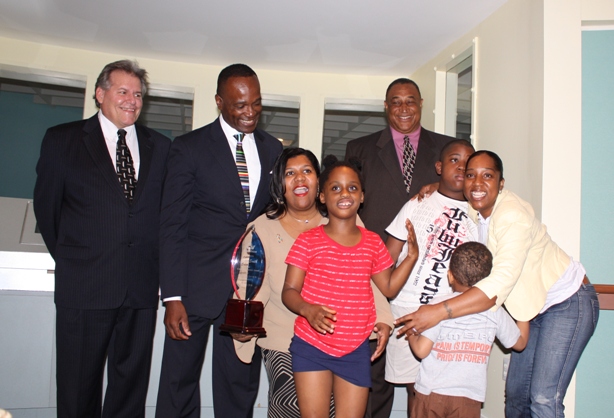 -
Mrs. Smith's involvement with the charity stemmed from seeing her nephew, Ciré, deal with autism. She was part of the project team that developed the charity's initial business plan. Today, Tomorrow's Voices has six paid staff members and a number of volunteers.
Mrs Smith explains:
When my nephew was diagnosed with autism, no support services were available on the island to help him and my sister learn to live with the condition. My work at Tomorrow's Voices has really been a labour of love as I've seen first-hand how verbal and behavioural therapy programmes, like the ones we offer, give autistic children a voice and help them demonstrate their capabilities and hidden talents to their parents. Autism can often make a child feel isolated, but we provide them with the necessary skills to cope in society.

I am proud of the work we are achieving with Tomorrow's Voices. Early intervention is essential so that autistic children can shine as soon as possible in their development. For that reason, we have been lobbying for diagnostic services to be made available on the island. Our ultimate goal is for autism therapies to be available through the public education system and to be covered by medical insurance. To achieve this, we need to educate the public and inform government policy.
Minister Elvin James:
I was impressed to hear of Mrs. Smith's dedication to the challenges faced by autistic children and their families, and her ability to raise awareness of autism within the larger community. Tomorrow's Voices offers a better quality of life for these families and eases their integration into our community.
Minister Michael Scott said:
Through her work at Tomorrow's Voices, Mrs. Smith assists children diagnosed with autism with their transition into adulthood and enhances their ability to play a meaningful role in Bermuda's society and workforce. Her efforts are to be greatly admired.
Terry Roberson, General Manager of Bermuda CableVision said:
Mrs. Smith's previous philanthropic roles as President of the Bermuda Amateur Softball Association, Chairman of the Youth Softball League, and National Director of the Duke of Edinburgh's Award in Bermuda demonstrate her passion for helping young people to be the best they can be. Mrs. Smith is a true inspiration to us all. She shows how we can apply our personal interests, knowledge and experience to charitable causes and make a real difference in our community.
Tomorrow's Voices provides therapy services at a heavily subsidised cost to parents. On average, the cost of care and special education for autistic children can be as much as $60,000 a year, but through Tomorrow's Voices, 80 percent of this cost is subsidised by public and private funding raised by the charity. Tomorrow's Voices also opens its doors to health and education professionals for work shadowing, observation, internship, and volunteer opportunities so that knowledge and awareness of autism can be shared throughout these sectors.
A committee reviews all nominations and selects a winner for the quarterly CableVision Community Service Award. The committee is comprised of CableVision employee Rollin Nathan, VSB radio host Shirley Dill, police media manager Dwayne Caines, and community activist Cromwell Shakir.
Bermuda CableVision will present its next Community Service Award in August 2010. The company invites the public to nominate any individual residing in Bermuda who has shown outstanding community service through participation in a school, church or charity organisation, or through their own determination. Nominations can be emailed to Rollin Nathan at rnathan@cablevision.bm.
For more articles on autism in Bermuda click here.
Read More About